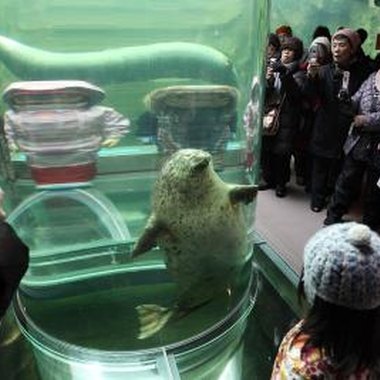 Zoos are a staple adventure park where people from all over the globe can a catch glimpse of animals from all the planet's environments. Among the most impressive zoos in the world, several notable ones are in Japan. Some of Japan's zoos are free while others charge an admission fee and include many of the same animals found in American zoos.
The Largest Zoos
The Asahiyama Zoo was opened in 1967 in Asahikawa, a city in Hokkaido, Japan. It is the country's northernmost zoo and includes a polar bear aquatic park, an interactive penguin exhibit and seal tanks that include glass tubes that seals swim through. It receives approximately 3 million annual visitors. Admission is 800 yen per person. Asa Zoological Park is located in Hiroshima, Japan. It is open every day except Thursday and national holidays. The park was opened in 1971 and features baboons, African zebras, elephants and even a petting zoo with barnyard animals like rabbits and guinea pigs. Visitors will also find river otters and red pandas. Admission is 500 yen per adult.
The Oldest Zoos
Kyoto Municipal Zoo is the second oldest zoo in Japan. It was constructed in 1903 and still uses many concrete and steel cages to house its animals. The oldest zoo in Japan is the Ueno Zoo, which opened March 1882 in Tokyo, Japan. The zoo grounds include a small amusement park and a variety of museums. It is home to more than 2,600 animals from more than 450 different species. Some notable exhibits include a pair of giant pandas, a Western lowland gorilla and even one of the Earth's few white rhinoceroses. General admission for the Kyoto Zoo is 500 yen, admission for the Ueno Zoo is 600 yen.
Botanical Gardens
The Higashiyama Zoo and Botanical Gardens is located in Higashiyama-motomachi, Chikusa-ku, Nagoya, Japan. It is open every day except Monday and general admission is 500 yen. The zoo contains lions, bears, a flower garden and a rose garden. One staple attraction is an observation tower/restaurant that lifts visitors 300 feet off the ground, thus giving them a panoramic view of the area. The Fukuoka Municipal Zoo and Botanical Garden is located in Fukuoka, Japan, and has a greenhouse that includes over 1,200 plant species, such as various cacti, orchids and ferns. The zoo charges 500 yen for general adult admission.
Free Zoo
The Nogeyama Zoo is a free public zoo that houses more than 1,400 different animals representing 100 species. It was opened in 1951 in Nishi-ku, Yokohama, Japan, and covers approximately 24 acres. The zoo includes red pandas, a reptile house, numerous chimpanzees and a variety of bears. The Makigahara Children's Zoo is a part of the Nogeyama Zoo and contains several small animals like chickens and a variety of small snakes.
Photo Credits
Junko Kimura/Getty Images News/Getty Images