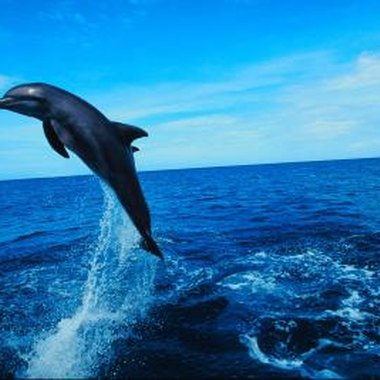 Dolphin shows, such as those at Sea World, and dolphin encounters can be found throughout the United States. Dolphins are aquatic mammals known for their graceful movements, jumping ability, intelligence and their seemingly playful demeanor. Although dolphin exhibits are common in tourist-driven areas such as Florida and California, they can be difficult to find in other areas of the United States. Nonetheless, there are several places people in Pennsylvania can visit without having to travel across the country.
The National Aquarium
The National Aquarium in Baltimore is approximately 176 miles away from Pennsylvania. The aquarium includes an Atlantic bottlenose dolphin exhibit at the Marine Mammal Pavilion. There is also a dolphin show titled "Our Ocean Planet" that features two to five dolphins per show. Guests can also, for a fee, take part in the Dolphin Encounter as either an observer or a participant. The encounter is about 2.5 hours long, and participants do not get in the water with the dolphins.
Indianapolis Zoo
The Indianapolis Zoo is about 550 miles from Pennsylvania. This zoo offers a 90-minute Dolphin in-Water Adventure that consists of an educational portion, changing into (and out of) wetsuits and 35 minutes in the water or by the pool with the dolphins. While in the pool, guests feed the dolphins, give hand signals to indicate the dolphin should follow specific directions and experience one-on-one time with the dolphins. There is a fee both to observe and to take part in the adventure. The Dolphin in-Water Adventure does not include swimming, but there are height and age restrictions.
Brookfield Zoo
The Brookfield Zoo in Chicago is around 550 miles from Pennsylvania. The Seven Seas exhibit at the zoo features bottlenose dolphins. Visitors can enjoy a show that includes aerial acrobatics by the dolphins and observe the social interaction within a pod of dolphins. In addition to the above-ground displays, the zoo offers access to underwater viewings. Visitors can also learn about the zoo's conservation efforts and listen to recordings of Dr. Randy Wells, who, according to the zoo's website, has headed the longest-running wild dolphin study.
Shedd Aquarium
Chicago's Shedd Aquarium is about 600 miles from Pennsylvania. While the other venues feature the gray bottlenose dolphins, the Shedd Aquarium has Pacific White-Sided Dolphins. These dolphins have white stomachs, black blacks and gray sides. The dolphins, along with Beluga Whales, perform in a show. The Shedd Aquarium offers a Trainer for a Day program that, for a cost, allows guests to work with a trainer on feeding and training sessions with dolphins and other animals.
Photo Credits
Jupiterimages/Photos.com/Getty Images