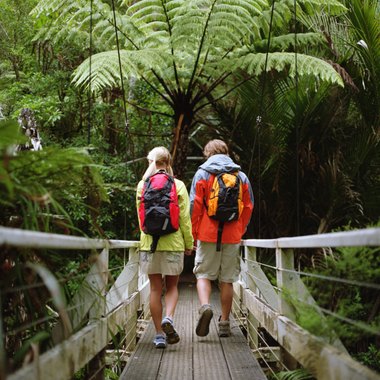 Eco-tourism has become the new trend in world travel, and zip-lining is one of its most popular attractions. Flying through the lush, green canopy suspended high above the ground with only a harness between the traveler and nature, zip-lining gives tourists an intimate view of St. Lucia's rainforests with many more thrills than a bus tour. Belvedere is a short drive from several zip-lining sites off St. Lucia's west coast.
St. Lucian Geography
Belvedere, St. Lucia, is located in the quarter or region of Sufrière on St. Lucia's west coast. The Sufrière quarter is bordered by the Sufrière Bay to the south, the Caribbean Sea to the west, and rainforest all along the inland border. The region is also dotted with active volcanoes and hot springs. The Pitons of St. Lucia, located in southern Sufrière, are world-famous volcanic plugs, mountain-like landforms that result from magma hardening over a volcanic vent. The variance of landforms makes St. Lucia a hot spot for eco-tourism.
Canopy Tours
The majority of canopy tours and zip lines are on the west coast and in the rainforests nearer the east coast. Treetop Adventure Park (adventuretoursstlucia.com), which operates in eastern St. Lucia, 30 miles from Belvedere, offers transportation from Sufrière for only $10, at the time of publication. Tours shuttle guests from several hotels around the city of Sufrière, a 10-minute cab ride from Belvedere. Pick-ups can be arranged when purchasing tickets. Morne Coubaril Estate (stluciaziplining.com) offers zip lines through the Pitons. The tours include zips through the estate and under Petit Piton where tourists can view the Caribbean Sea and the historic town of Sufrière. Morne Coubaril Estate tours also include tours of the plantation estate and an authentic Creole lunch for $99 per person, at the time of publication. Treetop Adventure Park offers tours for all ages and skill levels. Children at least 50 inches tall can participate in the Family Treetop Adventure, and beginners and tourists looking for a relaxing zip through the rainforest can join the Treetop Canopy Adventure. For thrill-seekers and experienced zip-liners, the multi-activity Treetop Challenge Adventure course is an exhilarating tour 65 feet above the forest floor.
Preparing for Zip-Lining
Zip-lining, even on courses designated low-activity, do carry risk of injury and require a reasonable degree of physical fitness. Zip-lining is not recommended for pregnant women or people with heart problems or other physical disabilities. Most zip line tours impose a weight restriction of 250 lbs. Zip-liners should wear long shorts or pants and close-fitting shirts that can be tucked in. Secure shoes like sneakers are required.
Planning a Zip Line Tour
Those traveling on cruise ships can book excursions through the cruise line for zip-lining at their St. Lucia port of call. Booking with the cruise ship is advisable, rather than arranging an independent tour when debarking the ship. Cruise lines have arrangements with the affiliated tours to have guests back to the ship in time to set sail, and the ship knows the itineraries of its guests who have booked tours with their affiliated companies. Independent tours may be somewhat less expensive, but there is no guarantee of the tour's quality or safety, and there is a possibility that passengers will not return in time to re-embark. Land-based tourists can book tours through a travel agent or research tour companies online. Belvedere is not a hot spot for canopy tours, but local hotels can direct guests to a reputable, nearby tour company or one that offers affordable transportation to the tour site.
Photo Credits
Mike Powell/Lifesize/Getty Images