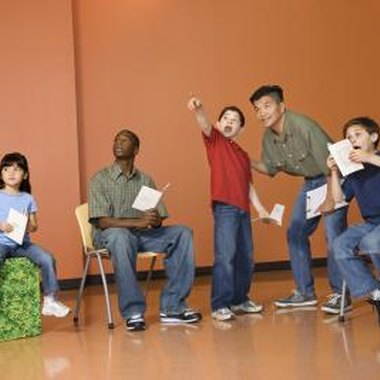 Programs to introduce children to theater arts abound in Westchester, Bedford Hills, New York. Kids have the opportunity to learn acting, dance, stagecraft and audition techniques. Many of these programs offer weekend classes and summer classes, as well as after-school programs. If you want your child to experience theater, examine the many opportunities Westchester offers year-round.
Applause Westchester
"Westchester Magazine" voted Applause Westchester (applauseny.com) Best Pick for Kid's Theater Classes. Its programs offer Broadway, Rock 'n' Roll theater and Applause Weekend workshops. Children work with professional performers and learn to perform for film and TV, as well as stage.
Antonia Arts
Antonia Arts (antoniaarts.com) teaches children how Broadway musicals are put together. Listed in the Westchester Family Guide as a place to build a strong foundation for dance and musical theater, this school accepts a limited number of students. It also offers a ballet program.
Broadway Training Center
The Broadway Training Center (broadwaytraining.com) instructs children in acting, voice, dance and performance. "Westchester Magazine" awarded it the title of "Best Theater Classes in Southern Westchester." Children work in the classroom and on stage under the tutelage of stage professionals.
The Pulse Performing Arts Studio
The Pulse Performing Arts Studio (performthepulse.com) involves children in performance ensembles, as well as competitions. It focuses on dance, theater and voice. Its aim is to bring New York City standards to Westchester.
Star Kidz
Star Kidz (starkidzonline.com) combines acting, singing and hip-hop in its classes. It emphasizes individual attention and a thorough curriculum. All ages and abilities are accepted.
Photo Credits
Jupiterimages/Comstock/Getty Images