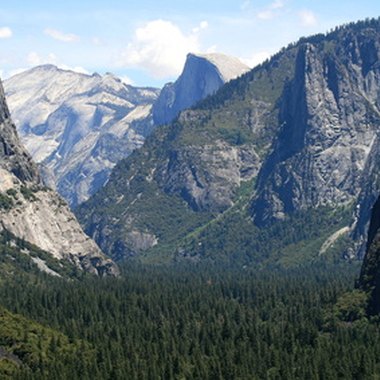 Most visitors to Yosemite National Park flock to Yosemite Valley, where, in addition to breathtaking views of Yosemite's waterfalls, granite cliffs and rock formations, you will also find the majority of the park's infrastructure. Within the valley's seven square miles there are multiple trailheads, restaurants, grocery stores, gift shops, a visitor center, nature center, museum and several lodging options. Yosemite Valley is open year-round and can be accessed via all of the park's entrances.
Housekeeping Camp
Housekeeping Camp is located along the banks of the Merced River. This unique lodging option is a step above tent camping. Each of the 266 units is a structure with three concrete walls, a curtained wall, a double-canvas roof and a concrete floor. The curtained wall separates each unit into a sleeping area and a dining area. The dining area has a patio with a picnic table and bear-proof food storage container. Each unit also has a privacy fence. The sleeping area accommodates six guests and includes one twin bunk bed and one double bed. These rustic accommodations do not have a television or telephone, and you should plan to bring your own bed linens. However, if you happen to forget to pack your own linens, you can rent sheets, blankets and pillows for a minimal nightly fee.
Curry Village
Curry Village, located beneath Glacier Point, has been a Yosemite National Park institution since it was developed by David and Jenny Curry as a tented campground in 1899. These days at Curry Village you will find 319 tent cabins with canvas roof and walls, 18 standard motel rooms, 56 duplex cabins with private bedrooms, 14 cabins with separate shared bathroom facilities and 91 tent cabins with insulated wall panels. Amenities at Curry Village include several casual restaurant options, gift shops, an outdoor gear shop and a grocery store. During the summer season, guests use the free swimming pool or rent rafts to float down the Merced River. Winter visitors can rent skates and take a spin around Curry Village's outdoor ice rink, which is typically open between the months of November and March.
Yosemite Lodge at the Falls
The Yosemite Lodge is located within walking distance of Yosemite Falls. Accommodations here include four family rooms, 226 lodge rooms and 19 standard rooms. Family rooms are the largest rooms available at Yosemite Lodge. They have one king bed, two single beds and a queen-sized sleeper sofa, along with dining tables for easy in-room family dining. Lodge rooms with one king bed or two double beds are only slightly larger than standard rooms but each has a balcony or patio. Standard rooms, the smallest-sized Yosemite Lodge rooms, accommodate two to four people and have one queen bed, two queen beds or one queen and one single bed. The lodge has several on-site dining options ranging from food-court-style to restaurant dining.
The Ahwahnee Hotel
The Ahwahnee Hotel, which holds a four-diamond rating from AAA, is easily the most luxurious -- and most expensive -- lodging option in the Yosemite Valley. Lodging options at this historic hotel include 92 hotel rooms, two suites and 24 cottages. Rooms inside the hotel include standard rooms, classic rooms which offer better views, and featured rooms with private balconies. The El Dorado Diggins Suite features fantastic views, a separate living room, a bathroom with Jacuzzi bathtub and enough room to accommodate four people. The Mary Curry Tresidder Suite is a more intimate accommodation with a four-poster canopy bed and oversized bathroom. Quaint cottage rooms are located on the grounds behind the hotel and feature private bathrooms, a small refrigerator and small patio. Cottage rooms have either one king bed or two double beds. These rooms do not have air conditioning. Amenities at the Ahwahnee include complimentary valet parking, concierge service, several gift shops and a heated pool open year-round. Dining options include the formal Ahwahnee Dining Room, where the Sunday Brunch is not to be missed, just be sure to bring your appetite! A more casual atmosphere -- and menu -- are offered at the Ahwahnee Bar.
Resources
Housekeeping Camp; 9005 Southside Drive; Yosemite National Park, CA 95389; 209-372-8338
Curry Village; 9010 Curry Village Drive; Yosemite National Park, CA 95389; 209-372-8333
Yosemite Lodge; 9006 Yosemite Lodge Drive; Yosemite National Park, CA 95389; 209-372-1274
Ahwahnee Hotel; 9005 Ahwahnee Drive; Yosemite National Park, CA 95389; 209-372-1407
Photo Credits
Yosemite Valley with Half Dome image by Robert Ulph from Fotolia.com