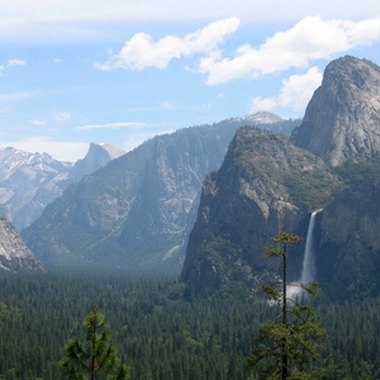 Located along the California-Nevada border, Yosemite National Park covers 1,200 square miles and encompasses mountains, valleys and spectacular waterfalls. Lodging outside Yosemite ranges from rustic to grand. Chain motels are concentrated along Highway 99 and Interstate 5 to the west of the park. Private properties tend to be closer to the park's boundaries.
Yosemite Bug Rustic Mountain Resort
Yosemite Bug Rustic Mountain Resort, 25 miles west of Yosemite Valley, is a four-season hostel with a variety of lodging options. Dorms, cabins, rooms and tent cabins provide both private and communal spaces. As part of the resort's recycling effort, new and used furniture, fabrics and rugs combine to create individualized accommodations. The café offers standard, vegan and vegetarian fare and a communal kitchen provides cooking space. The spa has a hot rock sauna, herbal steep baths and a yoga studio. Rooms at Yosemite Bug don't have televisions, but there are Wi-Fi hot spots on the property.
The Homestead
Located on 160 acres near the south entrance of Yosemite, The Homestead rents cottages placed far enough apart to ensure privacy. Cottages have fully equipped kitchens stocked with coffee, muffins and fruit, gas fireplaces, and satellite television. A ranch house on the property accommodates up to six guests and the most economical lodging, an upstairs room over the barn, sleeps two. The Homestead, with four covered stalls, welcomes horses and provides maps to local trails. River Creek Golf Club is one mile away.
Benton Hot Springs
This one-of-a-kind property east of Yosemite offers nine campsites, each equipped with a hot tub fed by the mineral springs around Benton. Tents and RVs are welcome, but there are no hookups. Guest rooms at the Old House, decorated with antiques in period themes, share bathrooms. The innkeepers serve a hot breakfast each morning, and guests have access to private hot tubs scattered around the property. Swim attire is optional at the hot tubs screened by foliage.
Bella Vista Mariposa
Bella Vista Mariposa, a three-story private vacation rental, has long-range mountain views from several porches and decks. Located between the north and south entrances to the park, the home has three bedrooms, three bathrooms, a large open floor plan and a fully equipped kitchen. The large master bedroom's bath has a garden tub and glass block walk-in shower. Mariposa, site of four wineries and the oldest courthouse in use west of the Mississippi, is a short drive away.