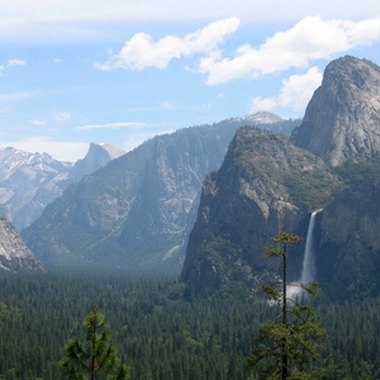 One of the earliest accommodations in Yosemite National Park was a simple log cabin built in 1855. Twenty-four years later, the Wawona Hotel opened across the valley from the cabin. Motels, hotels and lodges in the Yosemite area serve park visitors and sightseers touring surrounding attractions like ski resorts, ghost towns and historic villages.
The Ahwahnee Hotel
The Ahwahnee, a AAA Four-Diamond hotel, was completed in 1927 to accommodate wealthy travelers at the beginning of the 20th century. Rooms have views of Half Dome, Yosemite Falls and Glacier Point. Guests choose from standard rooms, cottages and parlor suites. The hotel's El Dorado Diggins Suite has the only Jacuzzi tub in Yosemite. To protect the hotel from fire, builders used poured concrete designed to resemble native timbers in the facade.
Davison Street Guest House
Budget-friendly Davison Street Guest House in Mammoth Lakes is an easy drive from Mono Lake, Bodie Ghost Town and Hot Springs. Located near the entrance to the Canyon Lodge ski area and six miles from Mammoth Mountain, the guest house offers communal living with a shared common room, bathrooms and kitchen. Rooms, outfitted with single beds or dorm-style bunk beds, accommodate up to 10 people. Guests who arrive while the innkeeper is away simply make themselves at home. The entire lodge is also available for rent.
Evergreen Lodge
Evergreen Lodge, an historic hotel opened in 1921, was built to house workers on the O'Shaughnessy Dam in Hetch Hetchy Valley. Cabins at the lodge range in size from 250 to 400 square feet, and the John Muir house accommodates up to 10 guests. Vintage cabins offered at a lower price consist of a single room and private bath. The lodge also has custom campsites, with a tent and all the camping equipment included. Special packages for families with kids feature stuffed animals, a wilderness backpack and games.
Long Barn Lodge and Ice Skating
Long Barn, a rustic lodge built in 1925 to accommodate travelers driving over Sonora Pass, has both motel rooms and cabins. More than 550 acres of skiable terrain are nearby at Dodge Ridge ski resort. A covered ice skating rink, open from November through March, opened in 1960. The Black Oak Casino, offering slot machines and table games, is 12 miles away. Long Barn Lodge requires a two-night minimum stay on weekends and holidays, and a three-night minimum on holiday weekends.
Resources
The Ahwahnee Hotel; 1 Ahwahnee Road; Yosemite, CA 95389; 801-559-4884
Long Barn Lodge; 25957 Long Barn Road; Long Barn, California 95335; 800-310-3533