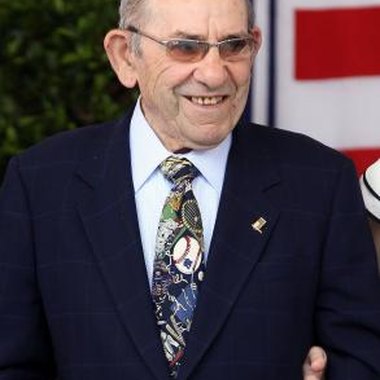 Lawrence Peter "Yogi" Berra was born in 1925 to Italian immigrants, quit school in the eighth grade and eventually became one of the best baseball catchers in Major League Baseball history. He grew up playing baseball in an area of St. Louis known as "The Hill" with a group of friends that included his next-door neighbor, Joe Garagiola. His love of baseball, business sense, charisma and unique use of the English language led to fame in commercials, as a speaker and as an inventor of much-quoted phrases known as "Yogi-isms."
Baseball
According to Berra's book "When You Come to a Fork in the Road, Take It!," Yogi and Joe Garagiola tried out for the St. Louis Cardinals when they were 16. Yogi was only offered half the amount Joe was to sign, so he turned them down. The following year he was signed by the Yankees and was called up after he served as a Navy gunner in WWII to replace Hall of Fame catcher Bill Dickey, who was about to retire. After a rough first year, he went on to lead in runs batted in for seven consecutive seasons and averaged 27 home runs and 108 RBI in from 1950 to 1956, which was unusual for a catcher. He played in more World Series games than anyone, winning 10 world championships, and was named league Most Valuable Player three times. Berra was elected to the Baseball Hall of Fame in 1972.
Manager
According to the St. Louis Sports Hall of Fame, Berra managed both the Yankees and the Mets after he stopped playing, becoming one of six men in history to lead teams from both the American League and the National League to the World Series. For eight years between the time he managed the Yankees and the Mets, he was a coach for the Mets.
Yogi-isms
In the book "When You Come to a Fork in the Road, Take It!" by Berra with Dave Kaplan, Yogi described what inspired many of his famous amusing quotes and the wisdom that can be derived from them. Many people have adopted his quotes, including "It ain't over 'til it's over," "A nickel ain't worth a dime anymore," "We made too many wrong mistakes" and "It's deja vu all over again." According to "The New York Times," Yogi became as famous for his redundant and self-contradictory phrases as he did for his baseball skills.
Publicity
Berra became famous even to people who were not familiar with baseball when he became spokesman for the Yoo-hoo chocolate soft drink company and appeared as himself in TV commercials for Puss 'n Boots cat food, Miller Lite, Aflac and Visa. Yogi was also a public speaker and actor, appearing in the movie "A Touch of Mink" and on the Ed Sullivan and Phil Silvers shows, according to "When You Come to a Fork in the Road, Take It!" The Internet Movie Data Base lists an appearance in "General Hospital" in 1963 and claims the cartoon character Yogi Bear is named after him.
References
"When You Come to a Fork in the Road, Take It"; Yogi Berra with Dave Kaplan; 2001
Photo Credits
Jim McIsaac/Getty Images Sport/Getty Images