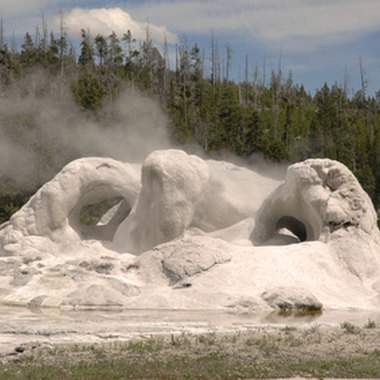 Although winter weather can be bitter in Yellowstone – the average annual snowfall is 150 inches, with daytime temperatures in the 0 to 20 F range -- the park still attracts a surprising number of visitors. In winter 2009, for instance, 87,000 people came to the park. Most winter visitors come to Yellowstone to either snowmobile or look for wildlife, especially wolves, whose dark forms are easier to find against a snowy white landscape. While there are definitely fewer accommodation open in the winter, visitors will find a number of choices available, including two hotels in Yellowstone itself.
Mammoth Hot Springs Hotel and Cabins
Mammoth Hot Springs, near the North Entrance, is one of only two hotels in Yellowstone National Park open during winter and the only one accessible by automobile. During winter, the hotel offers standard hotel rooms, shared-bathroom units and two suites, but no cabins. Take a tour of Yellowstone in one of the snow coaches that leave from Mammoth Hot Springs Hotel, or if you feel like being more adventurous, go on one of the hotel's guided snowmobile tours. A shuttle service can take you to the Indian Creek trails if you are interested in skiing. Guided ski trips are available.
Old Faithful Snow Lodge & Cabins
The other Yellowstone lodge open in winter is Old Faithful Snow Lodge and Cabins. Completed in 1999, it is also the newest of Yellowstone's hotels. You must use National Park Service-approved, over-the-snow transportation, such as a snow coach, to get to this lodge. Snow coach tours and runs to Mammoth Hot Springs Hotel are available from the Old Faithful Snow Lodge, as are guided snowmobile tours. Skiers can go on a guided tour of Yellowstone's Grand Canyon area or choose a custom tour. If you prefer to hit the ski trails without a guide, you can take a shuttle to either the Divide or Fairy Falls trails.
Three Bear Lodge
This unique property, which combines a handsome lodge built in 2008 with a motel built in 1932, is in West Yellowstone, Montana, and is an authorized Yellowstone Park concessionaire that offers guided snowmobile tours of the park. Three Bear Lodge also runs snow coach tours to Yellowstone's Old Faithful and Grand Canyon sections. The lodge, which features hand-crafted wood furniture, was built after a 2008 fire ruined a portion of the original motel. Rooms in the surviving older section are still available for rent to cost-conscious travelers.
Best Western Mammoth Hot Springs
Gardiner, Montana, is at Yellowstone's North Entrance, the only entrance to the park open year-round to automobile traffic. The Best Western Mammoth Hot Springs is one mile from the North Entrance and has a AAA three-diamond rating. This hotel's on-site restaurant means you won't have to brave the elements just to get a meal. In addition, pet-friendly rooms are available for an additional $5 per pet per night.
Kelly Inn West Yellowstone Hotel
The Kelly Inn in West Yellowstone has several winter packages that include either snow coach tours or snowmobile rentals plus lodging. This pet-friendly hotel charges nothing extra for your furry friend to bunk down with you. For those allergic to pets, the Kelly Inn maintains one floor that is humans-only. A complimentary daily breakfast in included with your room, and free transportation to and from the local airport is available with advance notice.