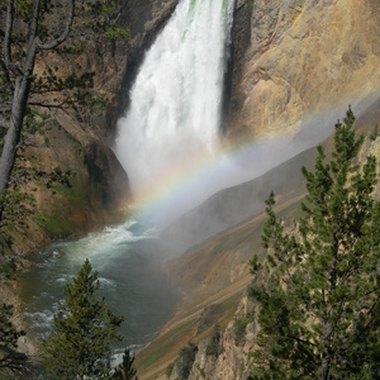 Yellowstone National Park, the world's first national park, encompasses a massive 2,221,766 acres. The park features an active volcano, more than 300 geysers, around 290 waterfalls, one of the world's biggest petrified forests and one of the world's biggest calderas, according to the U.S. National Park Service. Visitors to the park should plan to stay numerous nights to allow enough time to explore all of these natural wonders.
Winter Lodging
The majority of visitors to Yellowstone arrive during the busy summer months, but those who prefer to explore the area during winter can choose between two Yellowstone lodging options open from mid-December to the beginning of March. Mammoth Hot Springs Hotel, near the North Entrance, provides the only park accommodations accessible by vehicles and offers the most services and winter activities. Guests can select from rooms with or without private bathrooms, or suites. Visitors can reserve snow transportation to the Old Faithful Snow Lodge and Cabins, located farther south from the entrance, and choose from two types of cabins or lodge rooms.
North Yellowstone Lake Area
The Bridge Bay, Lake Village and Fishing Bridge areas are in the north region of Yellowstone Lake and offer guests a number of park services, including a marina, visitor center, amphitheaters and two lodging options. Lake Yellowstone Hotel and Cabins, a regal hotel with a 1920s environment, sits on the shores of the lake, features a stylish dining room and includes cabins, standard or lakeside rooms and suites. Lake Lodge Cabins sits farther back from the lake and features a cafeteria and three types of cabins.
Old Faithful Area
Site of the famous geyser Old Faithful, this area of Yellowstone National Park is one of the most popular and offers guests three lodging options. Old Faithful Lodge Cabins features affordable budget cabins, frontier cabins and a cafeteria. Old Faithful Inn, a national historic landmark, sits next to the geyser and features a restaurant, a deli and 10 types of accommodations, ranging from rooms with shared baths to deluxe suites. The Old Faithful Snow Lodge and Cabins includes quick-serve and full-service dining options and lodge rooms or cabins.
Canyon Village Area
Located near the center of Yellowstone National Park close to the Grand Canyon of the Yellowstone and the Upper and Lower Falls, Canyon Village accommodations include Yellowstone's Canyon Lodge and Cabins. This property divides into two adjacent motel-type lodge buildings featuring lodge rooms with vending machines. Guests also can stay in three types of cabins, and food options include a cafeteria, a deli and a full-service restaurant. This area of Yellowstone National Park features a stable offering horseback rides, a visitor education center, a store, a gas station and hiking trails.
Photo Credits
Lower Falls of the Yellowstone River image by Ian Shorr from Fotolia.com