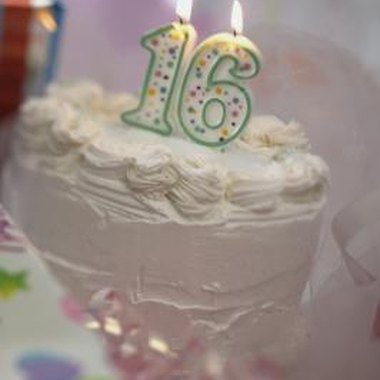 A girl's 16th birthday always has marked a milestone to share with family and friends, but in today's digital world, issuing the Sweet 16 invitation is different from in the past. Whether using the traditional invitation or spreading the word via computer or cell phones, make sure to invite everyone special in the life of the Sweet 16 celebrant.
Step

1
Ask the girl turning 16 to decide which method of invitation she would like to use. If she has opted for a formal party, a traditional paper invitation is best. If her party is informal, she can simply create a Facebook event and invitation on her page, send out an informal message via her Twitter account or send a mass email to all of the guests.
Step

2
Write the basic facts of the invitation, taking the appropriate tone for the planned festivities. For example, if it's a formal party, write something to the effect of, "We request the pleasure of your company on August 3 at 7 p.m. in the Oak Room of the Clayton Country Club to celebrate the passing of Amanda's Byre's 16th year." If the event is casual, convey the facts in a casual manner. For example, write "Hey! We want you at Amanda Byre's Sweet 16 Party on August 3. Starts at 7 p.m. at her house. Come whenever!"
Step

3
Staet the dress code. For example, if it's a pool party make sure to write "Bring swim attire, a towel and sandals." If it's a formal occasion, specify, "Male guests are expected to wear a suit and female guests must don formal attire."
Step

4
Write any special instructions. For example, if for some reason, you don't want guests to bring a gift, write that explicitly. If your want guests to bring a dish or a dessert, express that as well.
Step

5
Encourage guests to respond promptly. If the invitations are formal, include a response card, as with a wedding invitation. For invitations via email, ask guests to please respond and set a deadline. For invitations issued via Twitter or Facebook, guests can tweet back or hit the appropriate button on the Facebook invitation.
Photo Credits
Comstock/Comstock/Getty Images