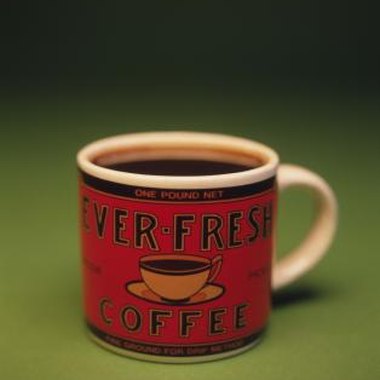 Once you know how to write on porcelain mugs, you will be able to create a variety of designs suitable for gift-giving, school and church fundraisers and home use. Whether you choose to create a stencil or free-hand your design, the one-of-a-kind nature of the mug makes it a cherished possession and keepsake. Corporate logos, sarcastic slogans, names or nicknames and inside jokes can be used to create an item which will be a perpetual favorite for the user.
Items you will need
Computer and printer (optional)

Carbon paper

Scissors

Clear tape

Pen

Porcelain Mug

Porcelaine Markers

Oven
Step

1
Create a stencil for your writing with a font on your computer, if desired. Print out the stencil and cut out the design. Tape the carbon paper to the mug with the carbon side facing down, and tape the stencil over the carbon paper. Trace over the stencil heavily with the pen until the design is visible on the mug. Remove the stencil.
Step

2
Trace over the pen lines created with the stencil or draw your design on the mug freehand with a Porcelaine pen. Allow mug to dry for at least 30 minutes.
Step

3
Place mug in a room temperature oven. Turn the oven on and set the temperature to 300 degrees. Bake the mug for 30 minutes. Remove the mug from the oven and allow to cool for 24 hours.
Tips & Warnings
Add decorations such as flowers, symbols or abstract designs to your mug to further personalize it.

Porcelain cracks from sudden temperature changes, so the oven must not be pre-heated before baking the mug.

Do not use abrasive cleansers or dish scrubbers to clean your mug as they will remove the design.
Photo Credits
Jupiterimages/Comstock/Getty Images