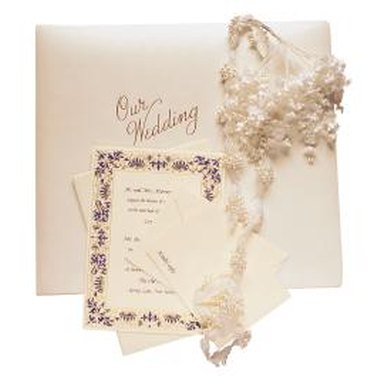 Traditional Western etiquette dictates the bride and groom, with help from their families, should cover the entire cost of a wedding, including guest meals. After all, your guests are taking time out of their lives to celebrate with you, probably buying pricey gifts and even a new outfit. But not everyone can reasonably afford to pay for all their guests to eat. With some careful wording, and by understanding your guests and making some financial concessions, you can politely ask guests to pay for, or at least contribute to, their own meal costs.
Step

1
Consider your guest list carefully. If money is a concern, think about having a smaller wedding. That high school lab partner you haven't seen in ten years probably won't be too offended if you don't invite her. Inviting fewer people may make covering the costs more affordable, but if it's still out of your budget, very close family and friends should understand and be willing to contribute towards their own costs. If you're clear about this in the invite, they have the option of not coming. With a shorter guest list of close family and friends, you can be more personal in the invite with something such as, "We know you understand our tight budget and will be grateful if guests cover their own meals."
Step

2
Hold a reception at a restaurant and mention in the invites there is no prix fixe menu. Most weddings held at reception or banquet halls have a fixed menu with a limited number of choices for guests. Caterers work out a cost per plate and charge the bride and groom accordingly. At a restaurant with a full menu, guests can choose anything they want to eat but are expected to cover their own bills. Try writing, "Order as much or as little as you care to spend, the menu is not fixed." This lets guests know they can order what they want, but they will be paying for it.
Step

3
Ask guests to pay for dinner in lieu of a gift. Close friends or family may still want to bring a gift, but do not expect it of them. The pleasure of their company as you celebrate, plus their contribution to the bill, is more important than getting a toaster or china set. Consider including the phrase, "In lieu of traditional gifts, we are asking guests to cover the cost of their meals."
Step

4
Don't register for gifts and only ask for monetary gifts from your guests. You can use this money to cover the cost of food without ever having to tell your guests you've had them pay for their own dinner. Play around with wording such as, "We are not registered but will gratefully accept monetary gifts."
Tips & Warnings
Try out different wordings for your invites and read them aloud to a third party. Edit them until you have them just right.
Photo Credits
Comstock/Comstock/Getty Images