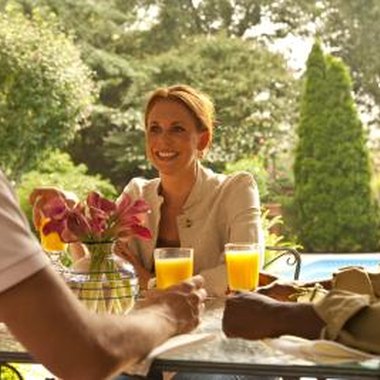 Breakfast is an ideal time of day for many different types of gatherings. For instance, breakfast can be a convenient and pleasant time to schedule a gathering with busy friends. Likewise, an early breakfast business meeting can be 45 minutes of productive discussion for time-strapped business people. Breakfast time can also be a lovely change of pace for other, more formal celebrations, such as an anniversary, birthday, Mother's Day, Father's Day, wedding ceremony, birthday or holiday. According to Etipedia, Emily Post's etiquette website, an invitation will convey the nature and style of the event. While it follows that the writing on a breakfast invitation and the mode of delivery (such as e-mail or snail mail, formal or informal) will depend on the aim of the breakfast, generally speaking the writing for the invitation will have a few shared basic features.
Step

1
Address your invitees individually using an appropriate greeting and their name. If the breakfast is a formal event and the invitation is on paper, write the date in the upper right hand corner and use formal salutations.
Step

2
Relay the details of the breakfast in a paragraph using complete sentences. Include the key details such date, time, location and the purpose of the breakfast. If the breakfast is informal or a potluck, explain what the guests should bring. For a business breakfast, offer a brief explanation on the purpose of the meeting. Enclose directions to the location, if necessary.
Step

3
Thank the invitees and express hopefulness that they will attend. Sign the invitation. Include details on how invitees should respond, such as an RSVP date and contact phone number or e-mail.
Step

4
Proofread the invitation ensure there are no spelling or grammar mistakes.
Step

5
Send the invitations no less than three days and no more than three weeks prior. If the breakfast is for a work meeting, only schedule on a weekday.
Tips & Warnings
If the breakfast has a guest or guests of honor, confirm the guest(s) can attend before sending out invitations.

While paper invitations mailed to recipients are advisable for more formal events, keep in mind many invitees who regularly use computers and smartphones or who are eco-conscious may appreciate receiving electronic notification.

If there are any changes to the breakfast, such as the date or location, call to personally relay the changes to all of the invited guests to ensure that they get the details.
Photo Credits
Comstock Images/Comstock/Getty Images