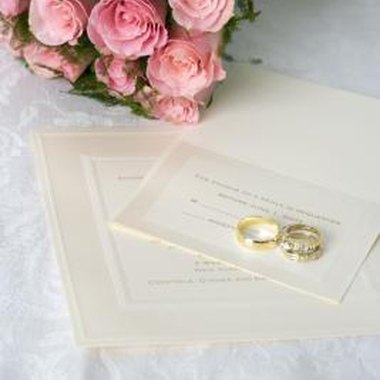 The wording on wedding invitations sets the tone of your ceremony by giving your guests some insight into the theme and mood of the wedding. When creating invitations for friends, wording choices can vary between traditional, destination-style, contemporary and formal.
Traditional Wording
If you are planning on a more traditional or formal ceremony, convey that point to friends by using wedding invitation wording that follows this format. Traditional wedding wording includes invitations issued by the bride's and groom's parents. For example, "Mr. and Mrs. John Smith and Mr. and Mrs. Mark Johnson welcome you to join in celebration during the marriage of their children, Rebbecca Anne Smith and Timothy Mark Johnson." Formal invitations such as this designate a more formal wedding.
Rhymed Inivations
Add an element of fun to your wedding invitations by featuring wording that follows a rhyme scheme. For example, "A friendship that was shared by two has grown into a love so true." After the initial phrase, continue with the information about the ceremony. Starting your invitation with a rhymed verse designates a degree of fun with your wedding ceremony.
Contemporary Wording
If your wedding ceremony is going to be more contemporary in nature, choose wording that reflects that sense of style. For example, "Please join us as we, Stacy Alexandra Anderson and Kaleb Andrew Meyer, begin our new life together when we exchange marriage vows." When the bride and groom issue the invitations themselves, they demonstrate that they are in charge of their ceremony versus when the invitations are issued by parents.
Destination Wedding Wording
Incorporate your location into the wording of your wedding invitation if you are planning a destination wedding. For example, if you are getting married in Hawaii, add native terms to the verses, such as "aloha," which means 'hello," "love" or "goodbye"; "lani," which means "heavenly" or "lovely"; and "brah," which means "close friend" or "brother."
Photo Credits
Creatas Images/Creatas/Getty Images