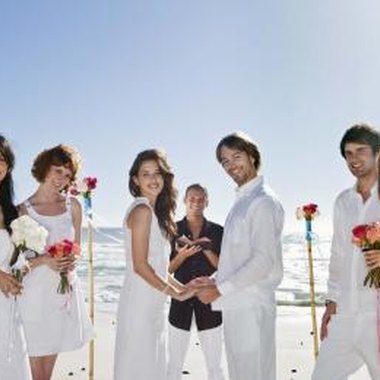 The wedding invitation is often the first news that relatives and friends hear the news about your plans. The invitation offers a special occasion to set the mood of your upcoming big day. Along with colors, floral accents, special glossed paper or gold embossed lettering, the wording must convey the right tone for your wedding ceremony and give pertinent information. In general, all invitations start with a sentence that includes the bride and groom's name along with the date and time. The invitation works even better when you have a set theme, though you can use any method to set your own invitation wording.
Heaven on Earth
A "Heaven on Earth" theme ties in with the many traditional colors of weddings, from off white to gold, light blue to pearl white or silver, but "angelic" wording gives you ample inspiration for invitations. Words like "celestial," "wonderland," "divine," "dreamy" or "heavenly" set the tone for the ceremony. Wedding invitations always start with a heading that includes the names of the bride and groom. To put a heavenly spin on things, an example heading might look like, "Bride A and Groom B request the pleasure of your company as they tie the knot under the heavens." Typically, follow this phrase with a time and day of the wedding, as well as location, either in list format or incorporated as part of the heading. For example, "Bride A and Groom B cordially invite you to a celestial wedding celebration on Saturday, the twenty-seventh of July at six o'clock in the evening."
Secret Garden
Gardens set the picturesque tone for weddings, particularly in spring. These occasions gain inspiration from nature and elaborate floral accents. Invitations for a "Secret Garden" can follow a traditional route with "Bride A and Groom B request your presence for a wedding ceremony in the garden." If you want to go further with this theme, opt for a fairy garden wedding and play around with wording such as, "The Lady Bride A and Sir Groom B invite you to celebrate a wedding day in the light on the third day of the May month at four o'clock." The idea incorporates all the necessary information and denotes the theme.
Storybook Ending
Many adults loved fairy tales as children, including stories of the fair princess finally meeting her prince in shining armor to get married and live "happily ever after." The same theme works as a wedding for any season. Invitations for a storybook ending often include upbeat expressions with a "royal" accent or phrase from a fairy tale, such as "Once upon a time, Bride A and Groom B fell in love. You are cordially invited to enjoy a wedding to remember happily ever after, to be held at Location A on Saturday, the twelfth of December at three o'clock."
Knot on the Beach
Couples often go with a simple theme with a beautiful setting, such as a beach. Hawaiian luau-themed weddings seamlessly transition between a wedding on the beach and a tiki-lit reception. Another beach theme expresses a couple's love for the ocean or sailing. Invitations for a beach celebration use wording more casual, like, "Bride A and Groom B invite you to a day at the beach as they exchange vows in the sand to be forever wed." Other beach-themed weddings take a different approach for invitations, stating, "Come celebrate a special day in the sun as Bride A and Groom B celebrate a wedding by the ocean on Saturday, the seventh of June at sunset." For this idea, time also conveys the setting of the wedding.
Photo Credits
Jupiterimages/Polka Dot/Getty Images