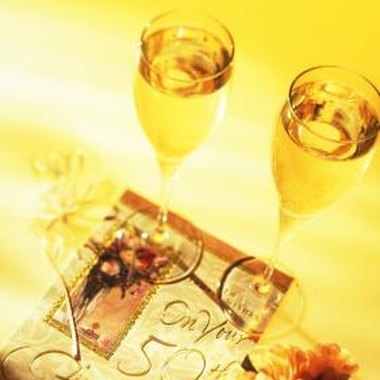 Wording party invitations depends on the type, theme and formality of the event. Shape the appropriate rhyming verse or informative wording around the tastes and preferences of the guest of honor. Use wording that gives guests an idea of what to expect, how to dress and any potential gift ideas.
Children's Events
Commonly, children's party invitations use rhyming verse to invite friends and family to celebrate a birthday or other kids party. "My, oh, me, look who's three!" is an example of a 3-year-old's birthday invitation. Incorporate the party theme into the wording when possible. Another example from Cards Shoppe is "Our little slugger is always on the go. Our birthday boy has the moves to be a pro!" for a little boy's sport-themed party.
Surprise Parties
Begin a surprise birthday party with "Let's keep it under wraps" for one who was born near Halloween or stress the fact that the event is a surprise to the guest of honor by stating so. Invitation Consultants gives examples such as "There's a birthday party and you're invited to show. But don't tell Sally, she doesn't know." Include the party details in addition to a lighthearted wording choice with the date, time, location and RSVP contact information.
Adult Celebrations
Announce celebrations such as baby showers, bridal showers, adult birthday parties or get-togethers using a more lively wording option. "Let's get together for drinks in honor of Shelley's 30th birthday" is one choice example. If the party is themed, consider integrating the theme into the wording. "They hit the jackpot, and the prize is true love" is one example from Polka Dot Design to invite guests to a Jack-and-Jill bridal shower.
Formal Events
For formal events such as weddings, anniversaries and other black-tie themed events, the invitation wording complements the attire. Begin your invitation with "In honor of..." or "Mr. and Mrs. Smith request the honor of your presence." Center the event venue, the date and RSVP directions. An example of response wording is "A Response is Requested by October Fifteenth," using the long-form spelling of the RSVP date. Include a contact telephone number for responses.
Resources
Photo Credits
Stockbyte/Stockbyte/Getty Images