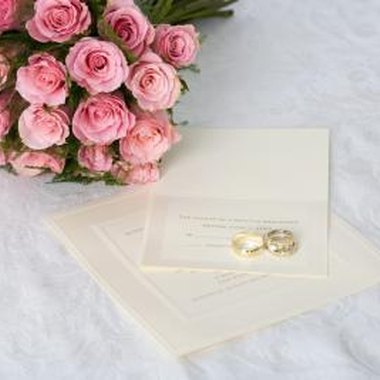 Sending wedding guests invitations focusing on your wedding's renaissance theme lets them know that your event will be special and unique. While some couples choose to use calligraphy and renaissance themed invitation borders to capture the theme of their wedding, renaissance wording can be added to nearly all aspects of a wedding invitation to help set the tone.
Names and Request Wording
Renaissance titles can be added to the names of the wedding hosts and the bride and groom. For example, a wedding hosted by the both sets of parents might read, "The heads of houses Kent and Barney request the honor of thy presence to bear witness to the joining of Lady Stephanie and Sir John." In the event that the couple is hosting the ceremony on their own, wording may be simplified, such as "Lady Stephanie Ann Kent and Sir John Ryan Barney request thy presence and that of your household at their marriage."
Date and Location Wording
As in traditional wedding invitations, the time and date are often spelled out on a renaissance invitation, such as "on Saturday the fifth of April/in the year of our Lord two thousand twelve. The ceremony will begin at half past six." The location of the wedding follows the time and date. A wedding held at a house should be worded "The Kent's Lair" notes the All About Renaissance Faires website. For ceremonies held outdoors, use meadow to signify the location, such as "The meadow known as Central Park."
Other Invitation Details
For receptions held at the same location as the ceremony, a single line detailing the events to follow should be included near the bottom of the invitation, such as "Feasting and merriment will immediately follow the ceremony." If guests are to wear period clothing, include information about what is expected, such as "Renaissance attire is requested, though not required" or "Renaissance attire optional."
R.S.V.P. Cards
Most wedding invitations are accompanied by an R.S.V.P. card, allowing guests to indicate whether they plan to attend. Wording such as "Yay, my household and I will attend the betrothal of Lady Stephanie Ann Kent to Sir John Ryan Barney" and "Nay, my household and I shall not be able to attend the betrothal" continues the renaissance theme and wording throughout the invitation enclosure.
Photo Credits
Creatas Images/Creatas/Getty Images