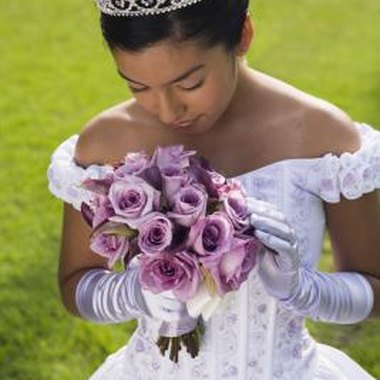 A quinceanera is a Latin tradition celebrating a girl's maturity into womanhood on her 15th birthday. It is generally a formal occasion recognizing her relationship with God, family and close friends. Event details are similar to a wedding, featuring items like flower bouquets, a formal dress, a tiered cake and champagne glasses. Traditional wording for a Quinceanera is written in Spanish and can be as creative or as formal as the birthday girl herself.
Introduction
Start the invitation with an endearing poem, verse or sentiment of the event to come. For example, write, "The last fifteen years have flown by, and the day we have dreamed of is here." On the next line, mention the proper names of the party sponsors, who are generally the girl's parents. Write, "Mr. and Mrs. Javier Gonzalez cordially invite you to the Quinceanera Celebration of their daughter."
Birthday Girl
On the following line, write out the birthday girl's first and middle names. If you like, you can add a phrase such as, "our precious gift" or "our blessing."
Details
Give the party details for the quinceanera celebration. Write the date and time formally, for example, "Sunday the twelfth of August, two thousand eleven at five o'clock in the evening." Follow that line with the full venue name and address so that guests can enter it into their navigation system if necessary.
RSVP
Finish your invitation with response information. Write out a contact phone number and a respond-by date so that you may plan accordingly.
Photo Credits
Jupiterimages/Brand X Pictures/Getty Images