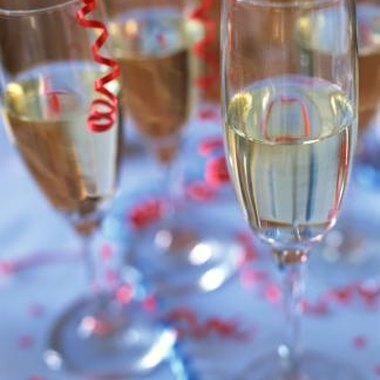 Whether you envision a rollicking New Year's Eve party with music and dancing, or a few people getting together for a quiet evening playing charades, use the party invitations to set the tone. The type of invitations, the picture you may use and the wording give your guests important information on what to expect at your party, in addition to anything that may be expected from them.
To Rhyme or Not To Rhyme
You want to invite people to a New Year's Eve celebration. Consider if you want to be jovial or formal. If you're creative and would like a jovial invitation, perhaps you can make up a short poem such as "Help us ring in the New Year, with martinis, wine and beer." If you're not the poem type, go with a simple "Please join us for a New Year's Eve celebration." A more formal approach would indicate a formal or semi-formal evening, such as "Mr. and Mrs. John Smith would like to invite you to their home for a festive New Year's Eve celebration."
Dress
Generally speaking, New Year's Eve parties are a little on the dressy side. How dressy the occasion will be is up to you and should be based on what your guests are comfortable with. Whatever you decide, indicate the manner of dress on the invitation. Put something like "Semi-formal dress" or "informal dress." New Year's parties are often black and white, meaning the guests should only wear black and white clothing. This can be indicated by replacing "New Year's Eve Party" with "Black and White New Year's Eve Party" in the opening paragraph of the invitation.
Food, Alcohol and Activities
Tell your guests what they can expect to do, eat and drink at your party. Include "Beer, wine and hors d'oeuvres will be served," or "Full dinner with open bar," or whatever is appropriate for your party. Also, if you are having a large party and finances are strained, ask people to bring their own alcohol by putting "BYOB" on the invitation. If you're planning to have a certain theme to your party, such as a casino night, indicated that also on the invitation. "You are invited to a Casino Night New Year's Eve Party," or "Join us for a card party on New Year's Eve," or "Come watch the ball drop with us."
RSVP and Other Details
After all the other details have been indicated, the time, host's name and address are indicated. Most people would like to know how many guests to expect, so include an RSVP at the bottom, with a means of contacting you, such as a phone number or email address and a date they should contact you by. Some people put "Regrets Only," which means invitees should only contact you if they don't plan to come. Keep in mind that if you use this, some people will forget to call even if they don't plan to come.
Photo Credits
Creatas Images/Creatas/Getty Images