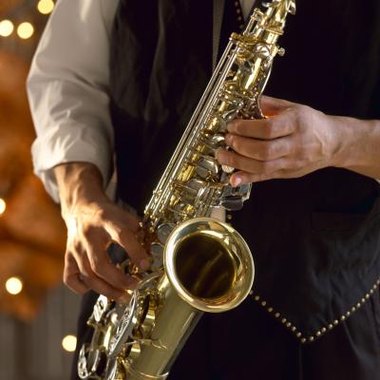 Whether you're hosting a few neighbors and friends for a casual get-together or 150 for a formal affair as part of a wedding, brunch makes a great 'tweener celebration -- casual, but not too, and a nice change of pace from more formal dinners. A written invitation to a theme gathering such as a jazz brunch should emphasize the theme but keep the invitation balanced and attractive.
Stick to the Basics
Keep the information basic, especially for a relaxed jazz brunch event. The invitation should reflect the tone of the event, so make it simple yet sophisticated like the music itself. Don't forget to include the date and time, location, RSVP instructions and a contact phone number.
Skip Cute
Unless this brunch celebrates the birthday of a 6-year-old jazz prodigy, stay away from cute graphics. A play on words or a humorous drawing or design is appropriate, but not an all pink color scheme with little rabbits in tuxes playing trumpets.
It's All About Jazz
Focus the invitation on the music. Everyone has been to a brunch before, but a jazz brunch presents a sophisticated twist on the idea that might be new to many of your guests. Mention the name of the jazz trio (or quartet or ensemble) in the first line or two. Try something along the lines of "Brunch at the Brown's with the Cedar Boys Jazz Quartet."
Finessing the Food
Describe the food, but do not list the menu, which can come across as a bit pretentious. Don't be afraid to get creative, though. Something catchy, like "Enjoy frittatas, fruit, flan and fromage with smooth jazz from the Cedar Boys Quartet," keeps the tone light and gives your guests a good idea of what to expect for the meal.
Photo Credits
Brand X Pictures/Brand X Pictures/Getty Images