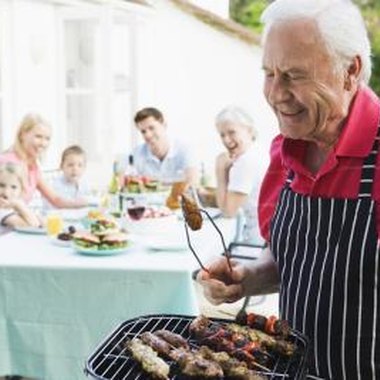 One of the best parts of summer is getting together with friends and family in the outdoors for games, fun in the sun, and cookouts. There are many aspects to planning a first-rate family cookout, but the first aspect your guests will see is the invitation. The wording you use can also generate excitement, attract interest, and communicate key details for getting everyone to the right place and the right time.
Generate Interest
The first part of your invitation should generate interest in the event by making a statement of what you will be doing. Phrases such as "Make a Splash With Us At Our Family Poolside Cookout" or "Hamburgers and Hotdogs and Chili, Oh My!" are sure to get attention. Incorporate elements of your menu or planned activities into your opening statement. Other samples include "Like Barbecue?" or "What Does a Grill + Hamburgers + Us + You Equal? A Fabulous Family Cookout!"
Give the Details
Don't forget to give the important facts, such as location, date and time. If needed, give information on attire (i.e., if you're having a poolside cookout, indicate that guests should bring swimsuits and towels). Sample wording: "Join us at our home on July 4 at 5 p.m., and bring your swimsuit, towel and favorite dessert." Include directions to your house if needed.
Activities
If you are planning activities and want to include that in the invitation, a simple explanation is all you need: "After the cookout, we'll be roasting marshmallows and singing songs around the campfire, so bring your old hangers or roasting sticks" or "You'll have the opportunity to show off your three-legged racing skills after the cookout, so be practicing up!" or "After the cookout, you can choose between relaxing on the porch or playing laser tag in the woods." It's not a bad idea to let the guests know what they can expect when they make plans to attend.
RSVP/Closing
If you are planning to have guests RSVP, you can word the invitation to say "If we'll have the pleasure of your company, let us know via phone, email, Facebook or Twitter so we can plan how many delicious hot dogs to grill." Provide your contact information so guests don't have to go looking for it. Make a closing remark that anticipates the fun of the cookout, such as "Looking forward to having a great evening with you!" or "Hope to see you there!" Ending with an exclamation point can close with the same feeling of excitement and energy that you opened the invitation with and leave your guests with a feeling of anticipation.
Photo Credits
BananaStock/BananaStock/Getty Images