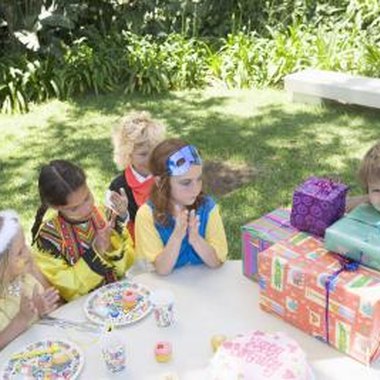 The party is the highlight of the day for a little boy on his birthday, but the invitations are what help set the mood. A good invitation will make guests look forward to the party. Although the invitations will be read by adults, they still need to be kid friendly to build anticipation among the little boy's friends. Avoid using big words and confusing sentences. Use fun phrases that make the party sound exciting.
Header
The header is the collection of words found at the top of an invitation. Headers are the perfect opportunity to grab the reader's attention. Use phrases that capture the reader's interest and don't be afraid to be playful. If the party theme is clowns, use wording such as "Come clown around with Billy and friends" or "Join the circus and come celebrate Timmy's birthday." Some generic ideas include, "You're invited to Sean's 5th birthday party," "Come help celebrate Danny's 3rd birthday" and "Guess who's having a birthday? Jimmy!"
Address, Date and Time
After the header, list the party venue, along with the address, date and time of the party. This information is intended for the adults, so keep it simple and get to the point. Either list the information on separate lines or use a simple sentence such as "Meet us at ABC Party Center located at 12345 Anywhere St at 4 p.m. on Saturday, March 3rd."
RSVP
The RSVP person is the party contact for the guests. Guests should respond to inform the person throwing the party whether or not they are going to be in attendance. List the RSVP contact information beneath the address, date and time. Once again, this information is for the adults. Keep it simple and list the person's name and telephone number. If you have a deadline by which the guests need to respond, include that as well.
Fun Phrases
To make the invitation more appealing to children, place fun phrases around the edge or at the top and bottom of the invitation. Use phrases such as "It's going to be fun," "Games and Prizes," and "Fun--Pizza--More Fun." Be creative.
Photo Credits
Pixland/Pixland/Getty Images