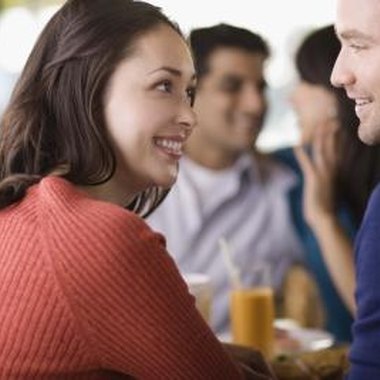 The rehearsal dinner is an opportunity for the wedding party to relax and enjoy each other's company following the wedding rehearsal. Traditionally, the meal has been provided by the groom's parents, but today the responsibility may be taken by anyone. Some rehearsal dinners include out-of-town guests and extended family, while others are limited to those participating in the wedding. Formal invitations are not necessary for an informal dinner, but even the most casual invitation must contain all relevant information.
Format
The format of the invitation gives guests a hint of the formality of the occasion. If you use stilted, old-fashioned language, your guests may expect an elaborate meal at a fine-dining restaurant. For an informal event, use relaxed, natural wording. Light, tasteful humor is appropriate, though not required. Handwritten letters, computer-generated or preprinted invitations and email notes are equally acceptable for an informal dinner. Technically, telephone invitations are acceptable, but you may find yourself fielding calls from forgetful guests. A written invitation gives the guests something to refer back to if needed.
Names
Traditional etiquette states that invitations should be issued in the names of the hosts. If the bridal couple is not hosting, the invitation should clearly state that the party is in their honor. On informal invitations, it is fine to dispense with formal titles and simply use each person's first and last name. Nicknames are acceptable if they are known to everyone who is invited.
Nuts and Bolts
The invitation must state the location, date and time that the dinner will take place. If the location is not familiar to all guests, provide the full street address. It is appropriate, though not required, to define the dress code near the bottom of the invitation. This is especially helpful when the rehearsal dinner is significantly less formal than the wedding. If the dinner is to take place "after the rehearsal," rather than at a specific time, consider asking guests to gather at the rehearsal location and travel together to the dinner.
RSVP
Give your guests an easy way to respond to the invitation. Telephone and email are much more common for informal events than are written response cards. Although it is traditional for guests to respond directly to the host, this is not strictly required. Any member of the wedding party may take on the responsibility of managing responses and coordinating with the host. That person should also take on the task of contacting potential guests who do not respond.
Resources
Photo Credits
Jupiterimages/Brand X Pictures/Getty Images