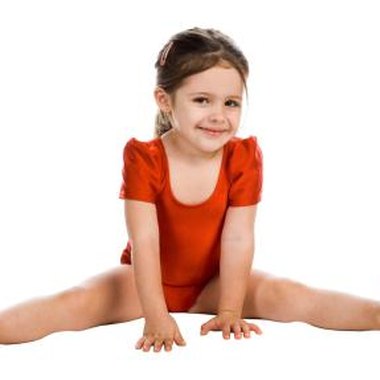 An indoor gymnasium is a fun place to host a child's birthday party, especially if the kids are into gymnastics. However, not all parents are fond of the idea of their children doing gymnastics because of the fear of accidents and injuries. Therefore, it's important to specify on the party invitation that this is a gymnastics party so parents are well-informed about what to expect.
Gymnast Announcement
At the top of your birthday party invitation, make a special announcement, such as, "Calling all young gymnasts! You're invited to celebrate the birthday of..." This is a clear--and cute--way to let parents and their children know that the party has a gymnastics theme.
Specific Language
Use specific language within your invitation that tells invitees that this is a gymnastics birthday party. You can write, "You're invited to a gymnastics party for Stephanie Roger..." or, "Please join us for a gymnastics party to celebrate Stephanie Roger's birthday."
Special Instructions
It's good etiquette to include information about what guests should bring or wear to the gymnastics birthday party. Since this is a special theme, it may be necessary for kids to wear tight-fitted clothing--such as leotards--or bring scrunchies or headbands to tie their hair back. Any special instructions should be worded in the invitation, so parents can plan ahead and arrive with the proper items in place.
Location
Your invitation should specify the name of the gymnasium where the birthday party is being held. Rather than simply providing an address on the invitation, tell parents the name of the gymnasium as well. This gives parents the opportunity to call or visit the gym ahead of time if they're apprehensive about letting their kids attend a gymnastics party.
Food and Beverages
Include wording about food and beverages on your invitation. Let invitees know whether food and beverages will be served at the gymnasium, or if you'll just offer your guests cake. You can write, "Pizza and beverages will be served," or, "Please join us for cake at the gym after the activities."
Cute Wording
Throw in some cute gymnastics wording throughout the invitation. You might say, "Celebrate with us as Stephanie tumbles her way into a new year," or, "We'll have a flipping good time."
Photo Credits
PhotoObjects.net/PhotoObjects.net/Getty Images