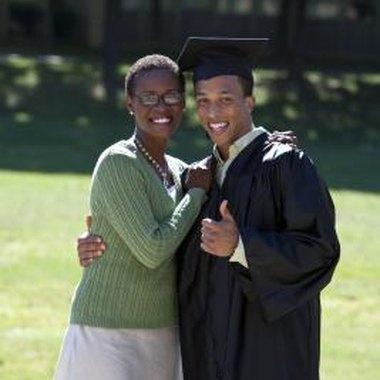 Graduation is a time of success, excitement and celebration. The announcements and invitations to your ceremony and party should reflect these feelings. The wording for your graduation announcements conveys the tone and formality of your commencement as well as the essential information needed to locate the ceremony and party.
Traditional Announcement
Traditional announcements usually reference the institution of academia in some way. They also use formal language and tone. Dates and times are typically spelled out. An example is, "The Regents of University of State are pleased to present Jane Smith as a candidate in the Bachelor of Science program on June Fifth, Two Thousand Eleven in the Performance Auditorium at Ten O'clock in the morning. Directions on reverse." Including the locations and directions is standard for all graduation invitations.
Quotation Invitation
Many senior class members select a quotation to appear in the yearbook next to their name and picture. Use this quote on the invitations. Let the quote convey the purpose of your gathering, simply adding the relevant location and time after the quotation ends. For example, "'To accomplish great things, we must not only act but also dream, not only plan but also believe.' -Anatole France." The quote can reference your degree, field of study or program you are completing. If you are graduating from a karate school, for example, use a quote that pertains to discipline and success.
Proud Parents Announcement
Parents can add a personal sentiment to the announcement by writing the wording from their perspective. This conveys parental support as well as pride in their son or daughter's accomplishments. For example, "It is with pleasure and love that we announce our daughter, Jane Smith, as a candidate for a Bachelor of Science from University of State." Parents might also want to include pictures of their son or daughter when they were younger.
Comedic Personal Invitation
The graduate can also write the invitation from a personal perspective, even adding a bit of humor. For example, "It is with excitement and a stroke of luck that I, Jane Smith, announce my candidacy for a Bachelor of Science from University of State." A personal invitation also allows you to expand on your degree or dissertation for those who might not know what you studied. For example, you might write, "I completed my thesis through the School of Information. It is titled 'The state of public libraries and their future in low-income neighborhoods.'"
Photo Credits
Comstock Images/Comstock/Getty Images