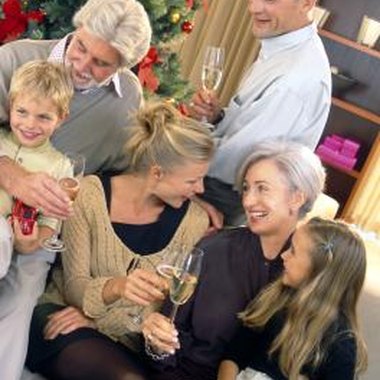 Whether you invite guests for a business, church, charity or personal Christmas potluck, you'll want to word the invitation to make your event a "must-attend" party. You'll need to provide the essential information of date, time, location and, possibly, directions and contact information, of course -- but express it in the relaxed, friendly manner that characterizes the nature of a potluck to compose an invitation that focuses on warmth and celebrating close relationships.
From a Business
A Christmas party sponsored by a business needs to exercise a degree of restraint not found in a Christmas potluck party at your home. Still, you can make the invitation wording friendly and welcoming: "Kearney Air and Furnace celebrates another year with a Christmas event for our dedicated employees. What: Potluck Dinner. When: December 5th from 6-9 pm. Where: Employee Break Room. Bring your favorite main dish and salad or side dish. Kearney Air and Furnace will furnish dessert, punch and coffee. Fun, prizes, awards and an appearance by Santa. Please let us know how many from your family will attend. Thank you." Or, word the invitation to be directly from the business owners, making it more personal. "Derek and Jen Smith invite you and your family to the annual Kearney Air and Furnace Christmas potluck December 5th from 6-9 pm. We'll include fun and games for kids as well as adults."
From a Church Group
A church potluck focuses on the birth of Christ as the reason for celebrating the Christmas holiday. The potluck might be sponsored by any number of church programs or organizations, from the Sunday school to the fellowship committee: "The Seniors Sunday School class invites you to a Christmas potluck at the church next Sunday evening from 5-8 pm to celebrate the birth of God's Son. Bring your favorite Christmas dish and dessert --- and a friend. Punch and coffee provided. The Kids' Choir will lead us in a selection of Christmas carols. Reverend Scheidies will share a Christmas devotional. Join us for an evening of fellowship, food and fun."
From a Charity
If your group is a charity sponsoring a Christmas fund-raising event, your invitation might read like this: "Anna's Children's Home thanks you for all you've done in the past year to assist us as we give children hope and a future. This year we're holding a Christmas potluck for all our friends and supporters. Bring a favorite dish and side dish to eat and a dessert to auction off. Join us in celebrating the joy of Christmas..." Include in the invitation the beneficiary of the potluck and what is expected of guests if the function is not just a "thank you" but also a fund-raising event.
Home Party
Make an invitation to your home potluck party personal and informal. "'Tis that season and we want to celebrate with our friends. Join us for a Christmas potluck supper, 6-10 pm, Saturday night at our home. We'll provide chips, coffee and pop. Bring your favorite Christmas dish." Indicate whether the party is for adults only or the whole family. Or, try: "Christmas means the warmth of family and friends. Celebrate the season with us with a potluck party. Bring that main dish you've been bragging about, along with one side dish or dessert."
Requests for Types of Potluck Dishes
To ensure a good balance of dishes at your potluck, you may want to specifically request that a certain number of guests bring an appetizer, some a main dish, some a side dish, others a salad and others a dessert, by writing your request on their invitations. Or, you may state that you will provide the main dish or the dessert and ask guests to bring the other dishes.
Photo Credits
Goodshoot/Goodshoot/Getty Images