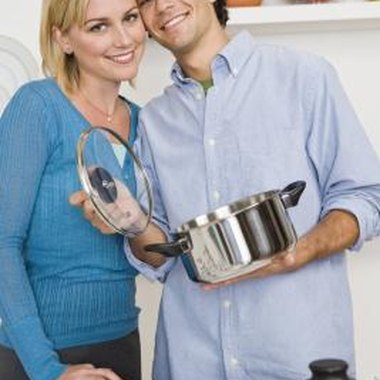 Whether a couple eloped for a sudden ceremony, or if timing simply didn't work out before the wedding celebration, there are a variety of reasons a bride and groom may choose to have a bridal shower after they're married. When throwing an after-the-wedding bridal shower, it's important to let guests know that the ceremony already took place, while also including the basic information guests will need to attend the festivities.
Basic
Sharing the basic information about the event is the most important aspect of the bridal shower invitation, so keeping the wording simple is one option. Write "You're Invited to an After-the-Wedding Bridal Shower" or "Help Mr. and Mrs. (couple's last name) start their married life off right with a bridal shower." Include the date the wedding took place, as well as where, especially if the couple eloped. State that guests are invited to celebrate the occasion and kick-off the couple's new life.
Rhymes
Creating a rhyme for a bridal shower after the wedding will give guests a fun read while kicking off the tone for the rest of the joyous event. Write "(Bride) just became a wife, and now (groom) is always in her life. Let's give them lots of gifts and cheer, and help kick-off their first year." The Party Invitations.com website recommends writing: "They ran away and tied the knot. Now let's get together and enjoy a party that's hot."
Funny
Lace the invitation with some humor when wording a bridal shower invitation after the wedding. Write: "Just because she's married doesn't mean Mrs. (bride) can get out of bridal shower games. Join us to celebrate an after-the-wedding bridal shower" or "They ran off to Las Vegas to get married, but let's show Mr. and Mrs. (last name) what a real party is like at an after-the-wedding bridal shower for the new couple."
Other Details
Along with a catchy phrase to let the guests know what the party is about, it's also important to include the necessary information to get them to the party. Write "Join us for an after-the-wedding bridal shower on (date) at (time) at (location)." Ensure you also provide contact information where the person can RSVP. Never put information about the couple's registry directly on the invitation; instead, direct guests to a wedding website where the registry is listed.
Photo Credits
Dynamic Graphics/Creatas/Getty Images