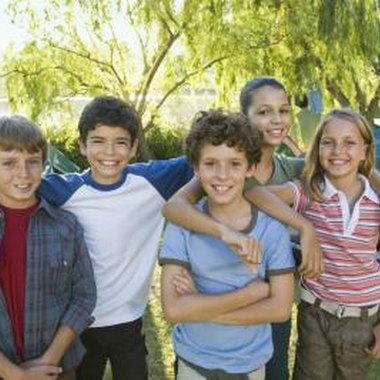 A camping birthday party is an original take on traditional birthday celebrations. You can take your guests to a scenic location or camp right in your own yard. Invite your guests to join you in your camping birthday celebration with carefully worded invitations that indicate the details of the event while conveying its adventurous yet festive theme.
Party in the Woods
Make woods-themed invitations by drawing campers with tents among pine trees, and add friendly woodland creatures. Invite guests to "Party in the woods for Darren's 12th birthday celebration!" Perpetuate the nature and woods theme in the wording of your invitation by asking guests to join you for "forest foraging" instead of refreshments and "howling at the moon" instead of campfire songs.
Party Gear
A camping birthday invitation should convey to guests what equipment and clothing they will need to bring to the party in a clever way that maintains the lighthearted tone of the event. For example, you can ask guests to bring the appropriate gear in poem form to make this potentially mundane task more interesting: "If you join us, have no fear We will be protected from bear and deer. As long as all campers wear protective gear, Like boots, jeans, and jackets -- we're all in the clear!"
Party Rules
Taking a large group camping can be complicated, and you'll want to prevent potential crisis by making rules and expectations clear in your invitation. This will also put the minds of other parents at ease, since they will likely appreciate a structured and well-planned event. You can word the rules of the event in a fun way to get campers excited for the party. For example, try something like this: "In view of the campfire campers must stay, But why in the world would you wander away, When marshmallow and hotdogs are yours to filet? Sticking together keeps trouble at bay!"
Pitch in and Pitch a Tent
Draw a tent on your invitation, and ask guests to attend the birthday celebration by writing something like this: "Pitch in and pitch a tent! Sarah has invited you to attend her 10th birthday party this Saturday for a campout in Reuters Park." You can use the tent theme to remind campers that they will be expected to help construct and take down the camp. You can also use this tent-themed invitation as an opportunity to ask other parents to lend gear, such as tents or sleeping bags. Ask that guests mention what gear they can contribute in their R.S.V.P.
Resources
"Invitations"; Marc Friedland; 1998
Photo Credits
Jupiterimages/Pixland/Getty Images