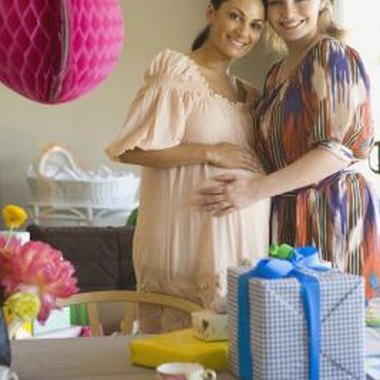 Baby showers are joyful events, particularly when the couple has tried for many years to have a child. Showering expectant and new moms with gifts and attention are customary to welcome little bundles to the world. The shower for a long-awaited arrival may be a celebration of the mother's success becoming pregnant as much as the birth itself, but drawing attention to her fertility struggle in the invitation may set the wrong tone for an otherwise happy event.
Invitation Etiquette
Showers are usually given four to six weeks before the due date to account for early arrivals and the mom's pre-baby shopping needs. Welcoming showers may also be thrown a month or two after the birth. In any case, invitations should be sent three weeks before the shower. Don't forget the essential information: the mother's name (or both parents' names); the shower date, time and location; and a request to RSVP. Proper rules of etiquette dictate that it is inappropriate to list gift information on the invitation itself, but a separate insert with registry information is perfectly acceptable.
Acknowledging the Long-Awaited Arrival
When a woman has tried for years to have a baby, anticipation of the birth is all the more joyous. Trying to conceive can be agonizing. You may be tempted to acknowledge just how long this baby has been awaited, but it may be wise to show restraint. No matter how open the mother was about her fertility journey, it is a very personal subject. Announcing to the world her medical struggle could be embarrassing or painful. Instead, focus on the positive: the arrival of a baby.
Invitation Wording
Baby shower invitations often include cute verses and phrases that allude to the shower's theme. The wording can be as simple or elaborate as you like. A simple and elegant invitation might read, "Join us as we honor Jane Jones with a baby shower on June 25 at 2 p.m.," followed by the address and RSVP request. Something more elaborate might include a poem like this one by Invitation Consultants: "Ten little fingers and ten little toes, two little ears and one little nose! Join us for a baby shower honoring Jane Jones on June 25 at 2 p.m.," followed by the address and RSVP request.
Being Discreet
If you absolutely must reference the mom-to-be's arduous journey to motherhood, include something that could be construed as generic by those unfamiliar with her struggle to conceive. A little saying such as, "At long last, baby is on its way!" could describe any pregnancy but has special meaning for the mother you're honoring.
Photo Credits
Jupiterimages/Brand X Pictures/Getty Images