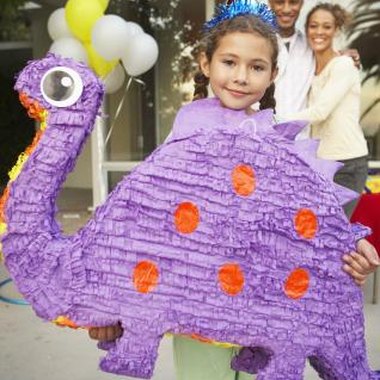 A kid's birthday provides a significant moment for parents to step up as party planners. Around the age of 5, kids also start making friends in preschool and kindergarten. A birthday party brings friends together and shows off a child's personality. When you get the decorations and activities just right, the words for banners, cards and cakes set the mood for each area of the party. Parties work best for kids when you have a theme, which allows kids to dress up, get involved with different activities and use imagination. Themed birthdays also allow for specific wording choices to spice up any 5-year-old's party.
The Little Princess
When you word banners and cakes for a 5-year-old's princess birthday party, use expressions like "magical," "dreamy," "royal" and "regal." For invitations, you set the theme with words like, "You're Invited to Princess Hanna's 5th Royal Birthday Celebration" or "Princess Hanna Cordially Invites You to Her Royal 5th Birthday Party." A Disney princess theme gives you much more to work with, from settings like The Little Mermaid's under-the-sea grotto, Cinderella's castle or Princess Jasmine's bedroom. If you create a present opening area, a banner with "The Princess Chair" designates a seat for the crowned 5-year-old. Once you create the party setting, then you pull the wording from the story, such as using the music lyrics from the movies or taking an excerpt from scenes in the fairy tale, such as "Once upon a time, a fairy princess invited all her friend's to a royal event..."
Dinosaurs Everywhere
For parties headed back to the "The Flintstones" era, a dinosaur theme celebrates with activities like fossil digging, raptor egg hunting and T-Rex tag. When you create the invitations, establish the prehistoric mood with a heading like, "T-Rex and Friends Invite You to Jordan's Rockin' 5th Birthday." The wording comes from the dinosaur names and caveman expressions, like "Raptors Welcome" for an entrance banner or "You're five roars old!" for a birthday cake expression. You also play with the time period and set up areas around the birthday party such as a "Jurassic Landing Zone" for guests to park cars or a "Jungle King" or "Jungle Queen" area for opening presents with a high chair above other seats for the honored 5-year-old. Use signs such as "Let's open presents before the Ice Age" to hang over the present opening area; "open presents" exchanges for "eat cake" or "dance" depending on what activities planned for the party.
The Zoo's in Town
Animal-themed parties make any 5-year-old smile. With live ponies, dogs, llamas, goats, ducks and bunnies, play with wording like "It's a jungle of a birthday" or "I'm Five Years Wild Today" for banners in any area. For the invitation, headers start with "All Access Pass to Crystal's 5th Jungle Jammin' Birthday!" or similar creative line. With a safari theme, you go even further by creating a "Jungle Expedition" area with an obstacle course or scavenger hunt for stuffed animals. Other ideas include setting up an area for face painting called "Lions and Tigers and Bears, Oh My" or "Monkey See, Monkey Do." The honored birthday child also needs a designated seat, nicknamed "The Explorer" on a banner. Ideally, you create the wording from the type of animals and activities for the birthday party, with a focus on the "wild," "jungle," "zoo" or "crazy" party theme.
To the Moon
The space age offers celestial and sparkling decorations, from stars to space rockets, planets to the Milky Way. The wording is just as stellar for a space themed 5-year-old party. Invitations play on "Free Ticket to Marty's 5th Moon Landing!" For a small moon bounce or trampoline area, you use banners like "Birthday lift-off!" or "BRB Going to the Moon." Many words work well for birthday cards, cakes and banners that play on the planetary, such as "galactic," "stellar" and "birthday blast off." Other ideas help set the mood for party areas, like "Welcome All Aliens to Zach's 5th Birthday" for a banner at the party's entrance or "Head Astronaut" for a present area with a chair for the birthday child.
References
"The Ultimate Birthday Party Book: 50 Complete and Creative Themes..."; Susan Baltrus; 2002
Photo Credits
Siri Stafford/Stockbyte/Getty Images