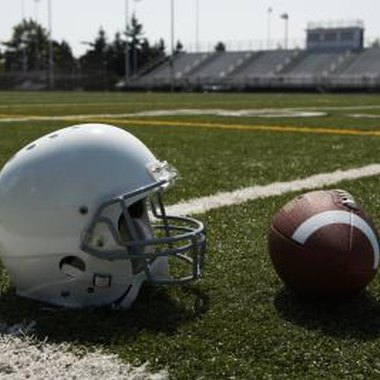 Entertain fans and family of players at tailgate parties during football season with a sports-lovers' party. Gather everyone together for some pre- and post-game celebrating to wish your favorite team well. Invitations for these events are quick and easy to write if you have all the necessary supplies and details ready.
Step

1
Gather all information needed. Include the location of the stadium parking lot, time of party, details as to whether it is before or after the game or both, who is giving the party and describe the theme. State clearly whether guests are required to bring a dish or beverage and what types of foods are already being supplied. Some tailgate parties charge everyone attending a small fee to help with the cost of refreshments and supplies.
Step

2
Choose an invitation design. Select paper with the team colors, that features images of a car or truck with foods behind it or that has a football-themed background. Find the design at one of many invitation sites available online or purchase specially designed paper from a paper or office supply store.
Step

3
Compose your wording clearly and effectively. Balancing the body of the invitations with the illustrations. Remain consistent with fonts. Choose your words carefully to be clear but casual. Some examples would be, "Join us at the Mustang game on Sat., Oct. 11, at Briggs Stadium, Lot A at 3:00 p.m. for beer and brats before the big game. Bring a salad or dessert. See you there, Jaime Martin and Joe Siegel" or "Wings and Chips Tailgate Party at the Vikings Game at 2:00 p.m. Sat., Nov. 3, at the Crass Stadium, Lot F. BYOB, David and Sherry Smith." Every tailgate party is different in some way; be clear as to what guests are required to bring and exactly where the gathering will be held.
Step

4
Mail the invitation in plenty of time for guests to make arrangements to attend. Some may need to buy tickets to the game. Most tailgate parties are so casual they do not require RSVP calls or responses. Choose your party favors and decorations, cook your favorite game day foods, buy and ice your beverages and let the celebration begin.
Photo Credits
Thomas Northcut/Digital Vision/Getty Images