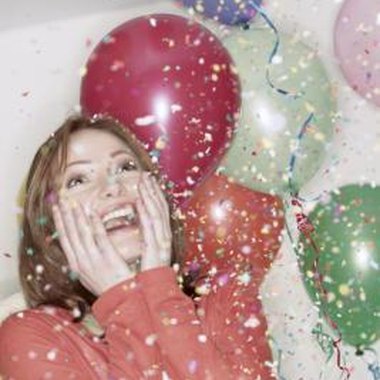 A surprise party can be a hard event to pull off, especially if you do not spend a lot of time apart from the guest of honor. If this is the case, it is often best to have someone else handle the details to avoid spoiling the surprise. One of the most important aspects of throwing a surprise party, besides keeping it a secret from the guest of honor, is to emphasize to your guests that the party is a surprise. Let's hope they can keep a secret!
Step

1
State clearly on the invitation that the party is a surprise party; that's the most important part of the whole invitation. Use a cute saying or poem to let your guests in on the secret, such as "Shhhhhh...It's a secret!" or "Surprises are really fun. Let's give Jack one he'll never forget!" Other wording options include: "It's a party for Bobby, but he doesn't know, so don't tell"; "Keep both your present and the party under wraps"; and "It's a surprise, so please don't blow it. Jennifer doesn't yet know it." No matter what wording you choose, make sure you state prominently the name of the guest of honor. This reinforces to those whom you invited that they cannot discuss the party with the honoree.
Step

2
List the event you are celebrating to help guests choose a gift or a card for the guest of honor. A gift for a birthday party is different from a gift for a retirement party.
Step

3
Give the details of the time and place for the party. Ask your guests to arrive at least a half hour before the guest of honor is scheduled to arrive, just in case he arrives early. For those who might not be familiar with the area, include a complete address so the guest can use his GPS or a map to keep anyone from getting lost.
Step

4
Add any further instructions for guests. For instance, if you are having the party in someone's home, instruct guests to park a block or two away to avert suspicion.
Step

5
Include your contact information and a date by which your guests should respond so you can get an accurate guest count. It is acceptable to use both a phone number and an email address for people to contact you.
Photo Credits
Comstock/Comstock/Getty Images