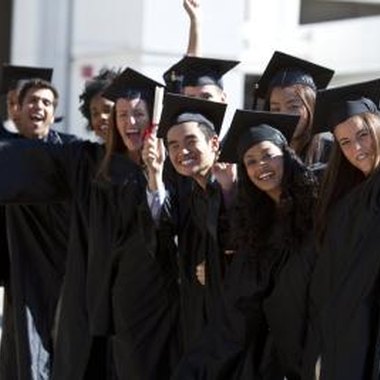 Graduation is an exciting time that recognizes both years of dedication and hard work and the imminent transition to a level of higher education or professional work. Graduation parties allow students who have shared these experiences to give each other a pat on the back and also say goodbye as they move on to other adventures and experiences. When throwing a surprise graduation party for a special graduate in your life, you may need to convey the need for secrecy in your invitation.
Step

1
Select an invitation that is appropriate for the occasion. For example, you could select either a graduation-themed invitation such as one featuring a cap and diploma or comparable image or one that shows the secrecy of the event with words such as "TOP SECRET" stamped on the front or a private detective making a "shh" gesture.
Step

2
Greet the recipient of the invitation with a cheerful statement at the top such as: "We're celebrating the hard work of our daughter and all her classmates at a top-secret graduation party!" The statement should get guests excited about the event.
Step

3
Provide the details of the event. Include who the party is for, where it will be held, on what day and at what time.
Step

4
Explain the secrecy of the event in such a way that guests will remember and not let the event slip. For example, write, "this is a surprise party, so please don't tell or mention anything to Bob."
Step

5
Volunteer your contact information if guests have questions or problems. For example, write, "please don't hesitate to call or text me for any reason at this number" or "email at the address."
Step

6
Add any special instructions such as dress code or what guests should bring. Re-read your invitation, checking for mistakes.
Photo Credits
Comstock Images/Comstock/Getty Images