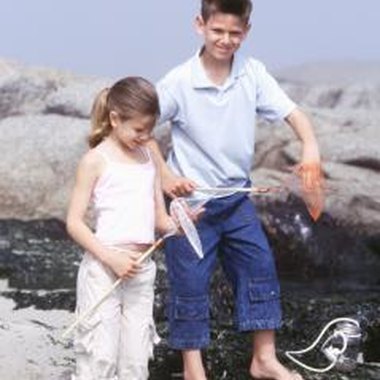 Brothers and sisters have relationships, for better or for worse, like no others. When a sibling's birthday nears and you send invitations to the birthday celebration, put your brotherly or sisterly heart into the wording. Communicate with sentiment or humor what it means to you to gather friends and family to celebrate the birthday of an extraordinary person. Follow general invitation wording guidelines by using third person verbiage, eliminating punctuation at the end of lines, and spelling out days and months, advises AnnouncingIt.com.
Step

1
Send birthday party invitations for twins by noting the distinctive relationship that twin siblings share. Write, for example, "Sienna and Sarah's birthday extravaganza will be just like them. Loads of fun and like no other! Join Bob and Tamara for the twins' birthday party on Saturday evening at 8:00 at the Lodge in the Pines."
Step

2
Use words for a birthday party invitation for your brother or sister that resonate with the way you feel about that sibling. Say, for instance, "Brett deserves the best life has to offer and now his sister is showing him it's true. You are invited to Brett's lakeside birthday barbecue and dance -- Omar and the Howlers are playing! Come to the dock at Harbor Vista on Lake Travis on Sunday at noon on Saturday, August 14. Come ready to swim, water ski and, most of all, show a wonderful older brother how much he's loved!"
Step

3
Extend a birthday invitation for a baby sibling's birthday with tender sentiments and joyful images. Write, "Baby sister Annie is 1 year old and big brother is so proud and happy! Please join family and friends for Annie's balloon-festooned event for kids and grown-ups at 1119 Ridgeway Lane on Saturday, September 15 at 1:00."
Step

4
Express your love and respect for a mature sibling with a soft touch of grace. Write, "Stacy's brother Daniel is turning 60 -- Stacy is thrilled! You are invited to surround him with your love and friendship at the Austin Lake House Restaurant on March 2 at 2:00 PM. Regrets only at 555-0103."
References
Photo Credits
Stockbyte/Stockbyte/Getty Images