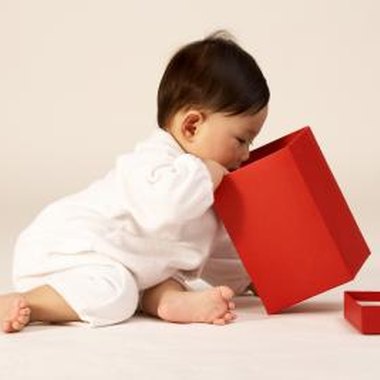 Showering a baby with gifts is a clever, thoughtful way to help parents prepare for the new arrival. Summon friends and family members to this memorable occasion by sending the appropriate invitations. If the child's family is religious, they may appreciate scriptural invitation wording that gives the appropriate thanks to God. A religious shower invitation gives good clues to guests about the kinds of gifts to bring. Pretty invitations also make a decorative keepsake attendees will treasure forever.
Step

1
Write a neat headline on the front fold of the card that reads, "We Are Blessed!" or "A Miracle in the Making."
Step

2
Open the card up and move your pen to the left side of the page. On this side write the important information such as where the shower will be held, the date, the time and who to RSVP.
Step

3
Move your pen to the right side of the page. On this side write a brief religious message about the expected tone of the shower. This area is also useful for setting a religious theme. For example, you might quote Bible scriptures like Psalms 127, "Children are a heritage of the Lord," or Psalms 8, "From the lips of children you have ordained praise."
Step

4
Finish up the scripture with a personal invitation such as "Please come celebrate our joy as we thank God for our blessing!"
Tips & Warnings
Print or custom order the invitations if you don't wish to hand write them all.
Photo Credits
Sky View/Digital Vision/Getty Images