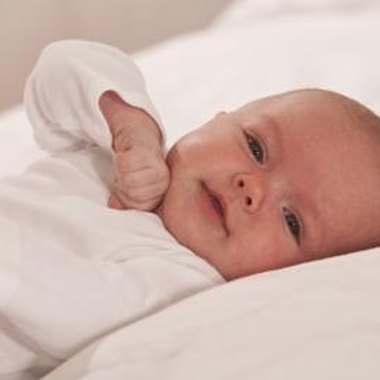 Naming day celebrations are a growing trend among new parents. A name dedication is an alternative to a baptism or other religious service, and it allows non-religious parents to acknowledge and celebrate the birth of their child in the presence of family and friends. A well-worded naming day invitation will communicate the joy and ceremony of the occasion as well as provide all necessary details.
Step

1
Head the invitation with an introductory sentence that announces the event and extends the invitation. Some possibilities include: "PARENTS' NAMES request the pleasure of your attendance at the name dedication of BABY'S NAME." "On behalf of PARENTS' NAMES, you are joyfully invited to the naming ceremony in honor of BABY'S NAME." "As we joyfully welcome our son/daughter BABY'S NAME into the world, we invite you to take part in a name dedication ceremony to acknowledge the tremendous gift we have received."
Step

2
Write the details of the event below the heading. Include the time, date, ceremony location, reception location and the parents' names. This section should be clear, succinct and preferably formatted as a list.
Step

3
Write any additional details for the occasion or actions the invitee must take at the bottom of the invitation. These details could include a number to call to RSVP, driving directions or gift requests.
Photo Credits
Comstock Images/Comstock/Getty Images