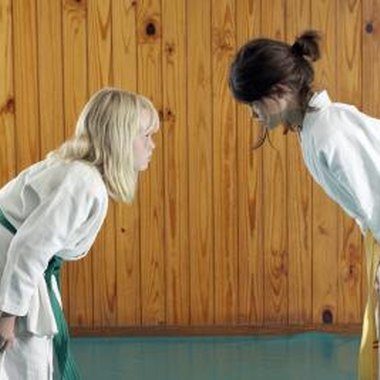 From movies such as the newest edition of "The Karate Kid" -- and all of its predecessors -- jabbing, kicking and uppercuts have become one of the hot options for kids' party planning. Let your kids and their friends burn off some steam, get exercise and learn to respect each other with a karate theme party. With karate's focus on practice and performance, you won't get bulked down in expensive decorations and supplies. Instead, bow down to making a party invitation that pulls a punch to get your R.S.V.P.s flowing in.
Step

1
Grab attention from the other bills, letters and junk in the mailbox by starting off the invitation with a call to action: "Grab your Gi" or "Gi Ready For a Karate Party." Add a note that if guests don't have their own gi -- the traditional white uniform -- a simple white button-down shirt borrowed from a parent will land an equally themed punch.
Step

2
Write or type headers for each section of the invitation, starting with the lowest belt color, white, and the main details of the party, such as "White Belt: Join us for a karate party honoring Mini Master Max on June 25 at 7 p.m. at the Janofsky Karate School."
Step

3
Add additional details with the next belt color, such as "Green Belt: Moderate activity will take place at the party, but children are not required to participate. Children with injuries or concerns are still welcome to come observe and enjoy observing activities such as brick breaking and mat punching. A trained karate instructor will supervise the children."
Step

4
Include important notes to parents in the "Black Belt" section such as "Parental chaperones requested," "Please dress in loose-fitting clothing" and "Pizza and soda -- no nut allergy risks -- will be served," along with how to R.S.V.P. and contact information for parents with questions.
Step

5
Close the invitation with a cliffhanger temptation to get invitees excited about the party, such as "All guests will receive their own starting white belts!"
Photo Credits
Goodshoot RF/Goodshoot/Getty Images