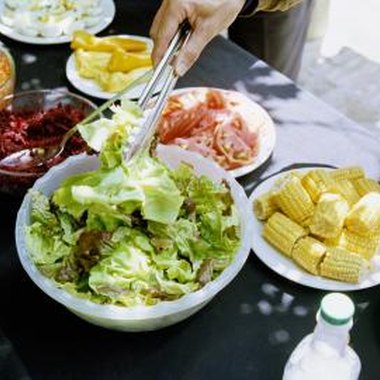 Planning and throwing a party is a time-intensive process and can get expensive. When everyone contributes a dish, however, the cost of the entire event decreases and the host and hostess can spend more money on entertainment, beverages or favors. If you want your guests to bring a dish to the party but don't know how to word the invitations, don't worry. Precise wording will leave no room for interpretation and will politely tell your guests that the party will be potluck.
Step

1
Decide the date, place and time for your party. Also decide upon a theme for your party so that you have an idea with which to work. Make the guest list. With a potluck dinner, having a large guest list can quickly become unmanageable, so choose a small number of people that you are comfortable hosting. Write all of this down in a notebook.
Step

2
Buy invitations that have a design similar to the theme of the party. Clever invitations will get your guests excited about the event. On the invitations, write the basic information your guests need to know, including the date, time and location of the party, as well as that the party is potluck.
Step

3
Decide whether you would like your guests to bring a specific type of dish or whether they can bring anything they want. The choice is ultimately up to you and depends on your comfort level in asking your guests to bring food.
Step

4
Word the invitations for assigning specific types of dishes. Get creative and use your friends' talents for cooking. For example, you can write "John, since you love baking, we would be pleased if you could bring a dessert dish for 10 people," or "We'd love if you would bring your famous nacho dip to the party." If you have a friend who is pressed for time, you could also assign a dish that doesn't require much preparation, such as a vegetable or fruit tray. Do so with a message such as "We would be grateful if you would bring a vegetable or fruit platter." Be sure to write what everyone was assigned in your notebook.
Step

5
Word the invites differently if you are going to allow your guests to choose what to bring. For example, on the invitations you could write "Since this party is potluck, please bring your favorite dish, with enough for 10 people" or "We would love for you to join us for the potluck. Bring a dish you love so we can all share it."
Step

6
Mail the invitations at least three weeks in advance so that your guests have plenty of time to RSVP as well as plan their dish.
Tips & Warnings
Buy portable food containers so that your guests can take food home, if there are leftovers.

Save the main course for yourself; it is rude to ask guests to prepare and transport a main course.
Photo Credits
Creatas Images/Creatas/Getty Images