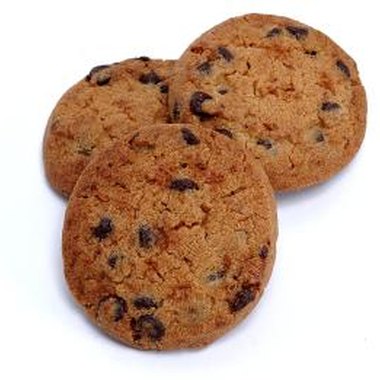 If your child is a big fan of the Cookie Monster from "Sesame Street," give him a Cookie Monster-themed birthday party and an invitation to match. Wording the Cookie Monster invitation is simple. Use a catchy "Sesame Street" introduction -- "Come and Play!" -- to get the attention of your guests; provide all of the details on the invitation so that your guests will know where to go for the deliciously good time.
Step

1
Begin the invitation with a phrase related to the Cookie Monster theme and the birthday child. You could write, "C is for Cookie and P is for Play, Please join us for Cameron's 2nd Birthday!" Another example of wording is "C is for Cookie, F is for Fun! Jocelyn is turning One!"
Step

2
Write the location of the party after a phrase such as "The Cookie Factory." Then write the address of the party location. For example, "Place: The Simpsons' Cookie Factory, 123 Cookie St., Little Rock." Add a map with your invitation if the location is difficult to find.
Step

3
Write the time of the party. Give the day and the date, "Saturday, May 25, 2011." Then give the exact time of the party. "Time: As The Count would say, the party will last 1, 2, 3 hours from 1 to 4 p.m."
Step

4
Add the RSVP information at the bottom of the invitation. To go along with the Cookie Monster theme, you could end the invitation with, "Brought to you by the letter S and the number 2! Please RSVP to 555-123-4567 by May 22."
Photo Credits
NA/Photos.com/Getty Images