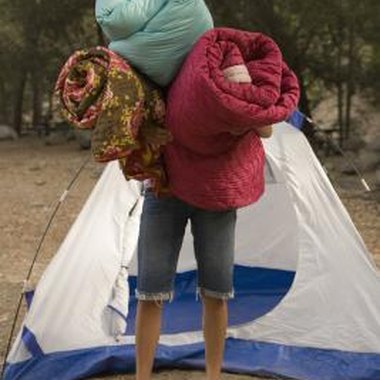 Woodall's is an organization devoted to bringing campers and families information on campgrounds and sites around the United States. Campers and RVing enthusiasts looking for information on campgrounds along the Smith River in California often turn to Woodall's. Online listings, newsletters and guides provide pertinent information on amenities, availability, nearby attractions, maps and locations for campgrounds from primitive tent sites to lush RV parks. Since the Smith River travels through both California and Oregon, campers can find numerous options near small cities and quaint towns, with options for horseback riding, hiking, rafting, fishing or shopping.
Smith River Recreation Area
Smith River Recreation Area is part of Six Rivers National Forest, primarily in northwest California but stretching more than 100 miles into Oregon. Six Rivers spans nearly a million square acres of forest, mountains, rivers, lakes and streams. Cities near Smith River include Smith River, Crescent City, Eureka and Klamath in California, as well as Brookings on the Oregon side. Proximity to mountains and Redwood State Park provide numerous opportunities for outdoor enjoyment.
Woodall's Listings for Smith River, California
Woodall's online directory of campgrounds for Smith River, California lists more than 20 campgrounds and RV sites. Each is in a different area following the path of the Smith River. Some campgrounds are on the river, while others are within a few miles by car or RV. Detailed information such as driving directions, nightly rates, services offered and sites available are included for each listing, to give campers the most current information available.
Sort Listings by Site Amenities
Camping means different things to different travelers, depending on the desired experience. One family might want facilities that offer primative tent sites, while a retired couple might look for RV sites that welcome pets. Still other vacationers have the need for on-site cabin rentals or alternative housing choices. Finding just the right amenities can be difficult for travelers unfamiliar with a particular area. Woodall's lets you sort properties based on amenities, such as types of camping sites, water and electricity availability, or pet policies.
Maps, Directions and Nearby Attractions
Camping along the Smith River presents a wide array of activities and attractions, depending on specific location. Using Woodall's maps and directions feature, potential campers can choose a campground based on proximity to other attractions, geographic location along the Smith River, or ease of access from state and federal highways. For example, Oregon residents might prefer the privately owned Salmon Harbor Resort, due to its closer proximity to the Oregon state line. Out-of-state travelers might prefer state-run campgrounds such as Del Norte Coast Redwood State Park or Big Flat Campground. Both offer proximity to fishing and nature trails.
Photo Credits
Jupiterimages, Brand X Pictures/Brand X Pictures/Getty Images