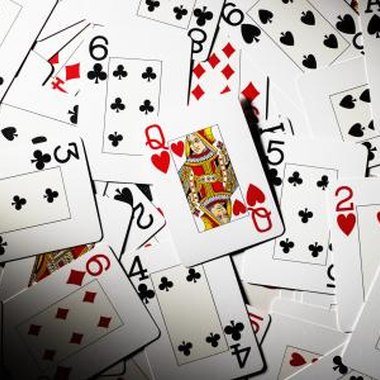 A Wonderland-themed party is an ideal way to celebrate any type of festivity, from birthdays to anniversaries to retirements. The classic tale of "Alice in Wonderland," by Lewis Carroll, can inspire a variety of party concepts so that you can be as silly as you want when decorating and preparing for the celebration. Focus on the main characters, symbols or events from Wonderland that stand out to you, so that you can use specific references throughout your party.
Invitations
If you are celebrating a birthday, invite your guests to an unbirthday. This reference to the Mad Hatter and his tea party shenanigans is an automatic giveaway that your party has a Wonderland theme to it. Write the invitation by telling your guests that they are invited to celebrate a very merry unbirthday with you, and complement the text with an image of the Mad Hatter. Another invitation idea for a Wonderland party is to make the invitation look like a playing card and write, "The Queen extends her invitation to play croquet with you on..." At the end of your invitation, include the words, "Do not be late for this very important date," as the White Rabbit says.
Large or Small Foods and Beverages
In Wonderland, objects and characters grow smaller and taller depending on the type of drink or food that is consumed. For your party, capture this mystical element of Wonderland by keeping your food and beverages either teeny tiny or oversized. For example, fill a tall flower vase with extra long lollipops and serve miniature cupcakes instead of regular-sized ones. Another idea is to place glass apothecary jars around the room filled with colorful beverages and little signs on them that say "Drink Me."
Activities
A tea party is an optimal way to celebrate a Wonderland-themed party, and can be enjoyed by children or adults. Set up a long rectangular tea table covered with various tablecloths. Brew your tea and pour it into multiple types of teapots that decorate the table. Then set the table with various mismatched tea cups and saucers. Prepare scones, biscuits and muffins for the table, and make it a rule that rather than passing the food across the table politely, everyone at the table must throw the food at one another -- all in good fun, of course. Another activity to be played outdoors is lawn croquet. Lawn croquet is symbolic of the Queen of Hearts. Decorate the lawn with fake flamingos and put up red rose bushes since the queen loved red roses.
Decorations
Get creative with your Wonderland decorations by letting the characters inspire you. The Cheshire Cat might inspire you to decorate with images of wide toothy grins all over the walls, right-side-up, upside down and sideways. You can also decorate with a variety of tattered tall hats that the Mad Hatter would wear, giant playing cards, clocks, blue caterpillars and signs that say, "Off with their heads!" and "This way," or "That way." Hang colorful lanterns from the ceiling or string them across the lawn outside.
Cake
If you plan on having cake for your very merry unbirthday party, make it a topsy turvy cake in honor of Wonderland. A topsy turvy cake is one with multiple cake layers in varying slants, so that it looks like the cake could topple over. These cakes are often covered with colorful fondant and intricate designs and decorations. For your Wonderland party, you might decorate a topsy turvy cake with red fondant hearts in honor of the queen, or make the tiers of cakes look like top hats in honor of the Mad Hatter.
Photo Credits
Michael Blann/Photodisc/Getty Images