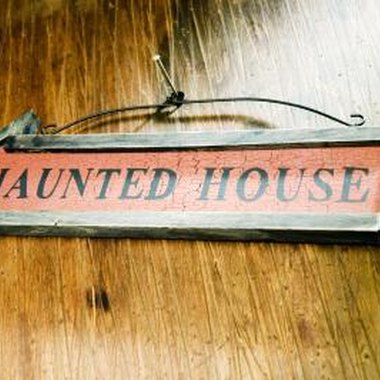 Wolverine Lake, Michigan has two commercial haunted houses within its boundaries; and two are just 12 miles away in neighboring Pontiac. Pontiac's houses are bigger tourist attractions than Wolverine Lake's. However, visitors looking for an authentic experience with sites said to have had real ghost sightings can find them in each town. All operate during the month of October in time for the Halloween season.
Realm of Darkness
Unlike the other area houses that were created strictly for promotional purposes, Pontiac's Realm of Darkness (therealmofdarkness.com) claims to carry a legend of having undead spirits. Paranormal activity has reportedly been seen and heard both before and after the house opened to the public. Specifically, an unwired phone was heard ringing. Actors' props were moved, and books were restacked without reasonable explanation. Owners of the house called in teams of paranormal experts to investigate the mysteries.
Scream in Wolverine
The Scream in Wolverine (screaminwolverine.com) house offers a lure beyond just the house itself. While the house is reported to be haunted by a doctor who went crazy after the death of his wife, a history lingers around the grounds as well. The house is surrounded by swampland that is believed to be haunted with the ghosts of lumberjacks. Legend has it that when the lumberjacks were alive, the area was known as Haakwood. The swamp that surrounds the house is a historical remnant of a place that became a ghost town for no apparent reason.
Erebus Four-Story Haunted Attraction
Due to its size and popularity, the Erebus Four-Story Haunted Attraction in Pontiac (hauntedpontiac.com) is the largest and most sensationalized haunted house in the area. From 2005 to 2009, it held an esteemed place in the Guinness Book of World Records as having the longest haunted walk-through. To accommodate thrill-seekers, the house features an indoor waiting area and offers many visit dates with varied hours. As of 2010, the Erebus house offered showings from September 24th to Halloween, with extended hours on Fridays and Saturdays until 1 a.m.
Nightmare for Hope Haunted House
As of 2010, Wolverine Lake's Nightmares for Hope Haunted House became an annual event. This house is hosted by local residents Eric and Tammy Grube, who donate proceeds from the showings to a charity. In 2009 and 2010, the Grubes raised funds for the Hope for Autism Foundation (hopeforautism.com). In an effort to attract support for the upkeep of the house, sponsors are offered cameo appearances in the house's promotional videos, company name logos on the Hope for Autism website and logos at the house itself.
Photo Credits
Jupiterimages/liquidlibrary/Getty Images