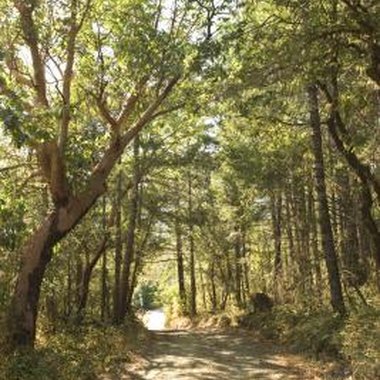 Wolf Den is a small neighborhood located on the south side of Leesburg Pike -- also called Route 7 -- just west of Tysons Corner between Shouse Village and McLean Bible Church. The neighborhoods in this area -- Wolf Den, Wolf Trap Woods and Shouse Village -- provide few opportunities for hiking. However, there are multiple hiking trails in the vicinity, as well as in the Blue Ridge mountains an hour to the west.
The Trail to Wolf Trap Park
Wolf Trap is a national park for the performing arts located just to the southwest of these neighborhoods off of Beulah Road. Gravel trails connect Wolf Den to Wolf Trap Woods and Wolf Trap Park. The trails begin at the basketball and tennis courts in these neighborhoods and end at the top of the Theatre in the Woods at Wolf Trap Park. Do not try, however, to use these trails to avoid the traffic entering the park for concerts; both Wolf Den and Wolf Trap Woods have prohibitions on parking cars near these trails to enter the park.
Colvin Run Mill
Colvin Run Mill is located on the opposite side of Leesburg Pike, approximately two miles west of Wolf Den. A right turn onto Colvin Run Road from Leesburg Pike and an immediate right turn into a gravel parking lot leads to a trail head. This trail leads through woods and meadows behind local neighborhoods and ends at a random spot on Leigh Mill Road in Great Falls. A roundtrip hike is approximately three miles in distance. Avoid this trail too soon after rain, as the trail tends to get extremely wet and extremely muddy.
Great Falls & Riverbend Parks
Great Falls and Riverbend Parks are both located in Great Falls, side by side, approximately five miles from Wolf Den. As the park's names indicate, both are located along the Potomac River in Virginia. Great Falls Park is named for the artificial waterfalls built into the river at that site. Hikers can begin their hike in either park; either just beyond Riverbend's parking lot or at the falls in Great Falls Park and hike between one park and the other.
Shenandoah National Park
Shenandoah National Park is located between Front Royal and Waynesboro in Virginia and spans 105 miles of mountain road called Skyline Drive. The northern entrance to the park, at Front Royal, is located approximately an hour west of Wolf Den on Interstate 66. There are hundreds of hiking trails in the park, as well as lodges such as Skyland and Big Meadows. Skyland, however, is home to a trail called Whiteoak Canyon which leads 2.3 miles to an 80-foot waterfall.
Photo Credits
Jupiterimages/Comstock/Getty Images