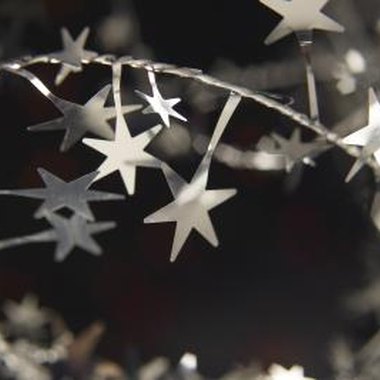 A winter wonderland theme may be just what your corporate party needs to get employees into the holiday spirit. Rather than throwing the same old seasonal event inside of a rented hotel conference room with stale walls, switch things up a notch by decorating the party atmosphere with a winter wonderland theme. A winter wonderland theme is a nondenominational approach to holiday parties so that you don't have to worry about leaving out a particular demographic of people.
Decorations
To capture the essence of a winter wonderland, incorporate a lot of white into your decor. White table cloths and napkins, for instance, keep your tables looking crisp. Throw some fake snow on top of the table, along with miniature, fake evergreen trees and LED tea light candles to make a cozy resemblance to the snowy outdoors. Use white and silver garland to decorate door frames, buffet tables and even the ceiling. Wrap twinkle lights around pillars or window frames or let them dangle from the ceiling.
Food
A corporate party needs food, and a successful theme party ties the food in with the main concept. For a winter wonderland party, serve easy-to-eat hors d'oeuvres on clear, frosted plates that look like chilled glass and warm soup inside of white bowls. Set up a cheese and roasted chestnuts station where employees can take samples with clear, plastic toothpicks. Offer cakes with white icing that are covered with white shredded coconut. Put together a hot cocoa bar where people fill their white or clear mugs with freshly brewed hot cocoa, miniature marshmallows, caramel syrup, crushed cookies and peppermint stirring sticks. Another idea is to set up gingerbread houses that people can eat. Gingerbread houses serve as decoration and food.
Attire and Accessories
To play up the theme, give your employees ideas on what to wear to complement the winter wonderland party. For instance, have everyone dress in all white, or suggest people wear their faux-fur coats and matching hats. Another idea is to turn the party into a masquerade by giving employees partial masks to wear that are white, silver and gold, offering an ice-queen look.
Music
To finish off your winter wonderland theme, play background music. Traditional winter-weather songs (such as "Frosty the Snowman") are appropriate, as well as a soundtrack of sounds, such as the sound of bells and the sound of horses pulling carriages. Another musical idea is to pass out singalong books and have your employees sing holiday carols as part of a group activity.
Photo Credits
Hemera Technologies/AbleStock.com/Getty Images