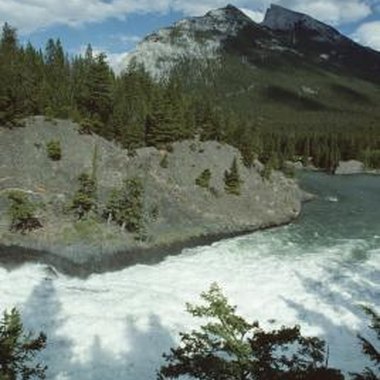 Banff, located in Alberta, Canada, is an iconic mountain community. The Lake Louise, Sunshine Village and Mount Norquay ski resorts surround the town, providing winter fun for snow sport enthusiasts while their non-skiing friends and family enjoy a diversity of restaurants, boutiques and spas. The Banff ski areas have some on-mountain lodging, but since lift tickets are acceptable at all three resorts, some people opt to stay in the centrally located town of Banff, where they can enjoy the off-slope attractions and indulge themslves in luxurious settings.
Spa Hotels
Banff's spa hotels provide a perfect solution for anyone who wants to combine an active sport vacation with a bit of hedonism, or for snow sport enthusiasts with non-skiing significant others. The Fairmont Banff Springs Hotel, built in 1888, tempts visitors with luxury accommodations and amenities. Housed in a Gothic Revival edifice, the hotel sits high on a hill above the center of town. High ceilings, chandeliers and stained glass floor-to-ceiling windows adorn the palatial lobby, while rooms and suites mix contemporary with Victorian-style furnishings. Amenities include free shuttle service to the resorts and a full-service spa. Banff Caribou Lodge & Spa is less luxurious, but still an attractive hotel. Pastel-colored fabrics decorate the standard rooms, and the Red Earth Spa offers a variety of treatments.
Breakfast Included
Breakfast is always a serious affair at mountain resort hotels, but some Banff lodging venues elevate the morning meal to an art form. Culinary creativity runs wild at the Buffaloberry Bed and Breakfast, where the breakfast buffet seduces your taste buds with croissant French toast and Camembert scrambled eggs. The owners describe their room motif as "alpine country." Treetops Bed and Breakfast offers a healthy spread of fruits, yogurts, cheeses and eggs. The owners use local ingredients when possible. If your waistline is not a concern, the breakfast spread at the Banff Boutique Inn features fresh-baked cinnamon twists and homemade granola. While Swiss mountain architecture houses the inn, its interior features contemporary furnishings, with modern art posters on the walls.
Pets Pampered
Banff has many pet-friendly hotels, but the staff at the Juniper Hotel go out of their way to provide a luxurious experience for your four-legged family members. Pets receive a bed, food and water bowls, organic cookies and a trail map so they can take their human companions for a walk. The Juniper is an eco-hotel that uses natural elements in its interior and exterior. Juniper Bistro, the hotel restaurant, serves fresh, natural foods. This hotel, like all other pet-friendly Banff hotels, does not allow your pets to stay in the room unattended, but Veronica's Dog Grooming offers doggie daycare. Juniper Hotel is close to Mount Norquay.
Hollywood North, Lake Louise
The castle you see in the middle of Lake Louise is not a mirage. It's the reflection of the majestic Chateau Lake Louise. Cornelius Van Horne, general manager of the Canadian Pacific Railway, built this hotel in 1890. By the 1920s, Canada had earned its reputation as "Hollywood North," and classic films such as ''Springtime in the Rockies'' and "Son of Lassie'' were filmed at Chateau Lake Louise. While the lobby and restaurant decor sing songs of an elegant yesteryear, rooms are surprisingly modern.
Photo Credits
Jupiterimages/liquidlibrary/Getty Images