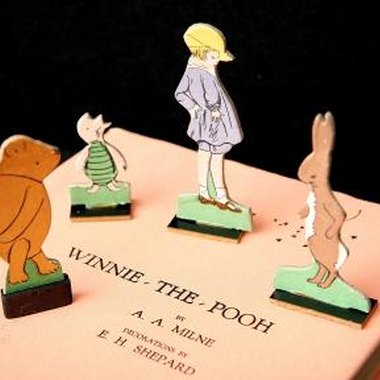 With a variety of books and movies inspired by the character, it's no wonder that Winnie-the-Pooh is beloved by children everywhere. A Pooh bear birthday party lets children step into the wonderful world of the Hundred Acre Wood and celebrate an 11th birthday with Winnie-the-Pooh.
Invitations
Get the children excited about the party as soon as they open the envelope. An invitation inspired by Pooh provides an adorable way to give useful information to the parents, as well. If you have artistic ability, you can sketch a picture of the lovable bear on the front of the invitation card, but if you're less adept with a pen and paper, simply print Pooh's image as you find it on a computer. Inside, invite children to "Join us in the Hundred Acre Wood for John's 11th birthday celebration!" Include other useful information, such as the time and location of the party. Maps are helpful, too.
Decorations
Bring the Hundred Acre Woods to life with some decorations. Drape green streamers along the ceiling to great the illusion of being under a canopy of trees in the forest. Tie red and yellow balloons, the color of Winnie the Pooh and his shirt, to chairs and other places throughout the venue. Use old honey pots, found at vintage stores or thrift shops, as vases for arrangements made of wildflowers. Give the room a magical twinkle by hanging up some white string lights.
Food
Serve up food that is sure to make the guests smile. Purchase a Winnie the Pooh cookie cutter to make sandwiches shaped like the bear. Piglet in a blanket, or mini hot dogs wrapped in crescent rolls and teddy grahams make great Winnie the Pooh themed snacks. For a special sweet treat, make a cake shaped like Winnie the Pooh. Purchase a Winnie the Pooh cake pan or carefully craft your own bear from a rectangular cake pan, then decorate him with dyed icing and candies.
Activities
As children get older, they may no longer like the basic party games they once adored. However with a little tweaking, there are some Winnie the Pooh activities that even eleven-year-olds will love. The classic game of pint the tail on the donkey can easily be made into a Winnie the Pooh friendly game of pin the tail on Eeyore. Turn casual jump roping into a Tigger bouncing contest to see who can go the longest.
Photo Credits
Peter Macdiarmid/Getty Images News/Getty Images