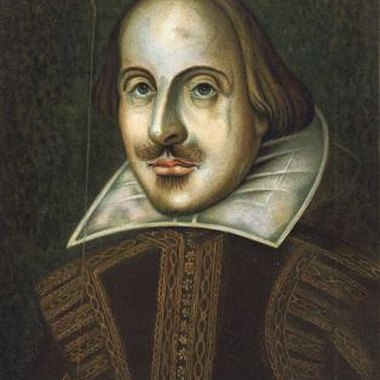 The famous English playwright William Shakespeare was born in Stratford-Upon-Avon on April 23, 1564. Although not much is known about his personal life, Shakespeare's plays and poems have survived intact to the modern day, and they continue to be read and performed by people from all over the world.
Family Life
Shakespeare attended the local junior and grammar school in Stratford, where he was taught Latin and read the works of classical writers, such as Ovid. What Shakespeare did after he left school at the age of 14 is not known, but in 1582 he married Anne Hathaway. Their first child, Susanna, was born in 1583 and the twins, Hamnet and Judith, the following year. Shakespeare was married to Anne until his death on April 23, 1616. Strangely, Shakespeare was born and died on the same day. He also died on the exact same day as the great Spanish writer Miguel de Cervantes, author of "Don Quixote."
Poetry
Shakespeare wrote 154 sonnets during his lifetime. A sonnet is a type of poem that has 14 lines, and each line has 10 syllables. Shakespeare also used a special metrical system in his sonnets, known as iambic pentameter, along with a complex rhyming pattern. Some of his sonnets are addressed to a unknown man, whom Shakespeare encourage to get married and have a family, and some sonnets are about a mysterious "dark lady" whom Shakespeare admired. Shakespeare wrote his sonnets during an outbreak of plague in the 1590s, when the theaters were closed and he couldn't stage his plays.
Plays
Aside from his sonnets, Shakespeare also wrote around 41 plays, according to the "Shakespeare Cummings Study Guide." Shakespeare wrote three different types of plays, which were first published after his death in 1623. This collection is known as the First Folio. Shakespeare wrote tragedies, like "Macbeth" and "King Lear," comedies such as "Much Ado about Nothing" and "As You Like It" and romances, like "The Winter's Tale" and "The Tempest." He also wrote histories, such as "Richard III" and "Henry VIII." He sometimes worked with other writers on his plays. "The Two Noble Kinsmen," for example, was a collaboration between Shakespeare and John Fletcher.
Performances
Shakespeare's plays were performed in tall, open air theaters in London. They were generally performed in the afternoon while the audience stood or sat in the galleries. All the roles were played by men, even those of women. Many of Shakespeare's plays were performed in the Globe Theater, which was built in 1599 by an acting company that Shakespeare was involved in. Although the theater caught fire in 1613, during a performance of "Henry VIII," it was rebuilt the following year.
Photo Credits
Photos.com/Photos.com/Getty Images