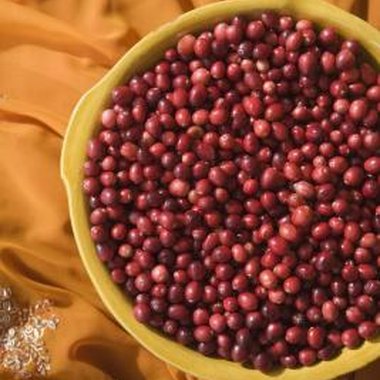 If you know the right places and time to look, wild high bush cranberries can be picked by the bucketful in Minnesota. The tart berries are often used in jellies and jams, but they are also good for making juices, pie filling and sauces. Before attempting to pick anything from the wild, you need to study the plant so you don't accidentally pick a berry that looks similar, but is not fit for human consumption.
Identification
The high bush cranberry is not technically a cranberry, but is referred to as such because of its similarity to a traditional cranberry. To find the berry, look for three- to 10-foot-high shrubs growing in the cool woods, thickets and swampy areas. The flowers on the plant are white, while the berries are round to oblong and range in color from yellow to dark red and contain one flat seed. Look for three sharp lobes on the maple-like leaves.
Habitat
To find the high bush cranberry, look for damp, open sites across the state, except for in the southwest. The berry grows at the edges of woods and shores, in thickets on riverbanks and in ditches and wet roadsides. Only use native high bush cranberries picked from the wild because the domesticated European species is not recommended for human consumption and is used solely for ornamental purposes.
Picking
While many pickers scope out potential areas long before the berries ripen, late fall is when the berries are at their peak. Weather can affect the berries, with a wet year bringing plumper and sweeter berries. One caution for berry pickers in Minnesota is the fact that the U.S. Forest Service sprays some forest roads with low-impact herbicides, so avoid picking within 50 feet of a sprayed roadway. Maps of the sprayed roads are available at U.S. Forest Service district offices as well as on-line at www.fs.fed.us/r9/superior.
Uses
Like cranberries, high bush cranberries are too tart to eat right off the plant and should instead be boiled first. You then can use the berries in a variety of recipes, from jams and jellies to a Thanksgiving sauce made with high bush cranberries and heavy cream.
Resources
Photo Credits
Jupiterimages/Comstock/Getty Images