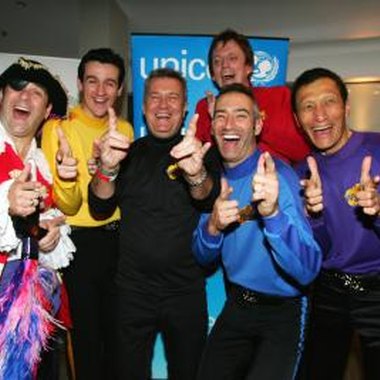 "The Wiggles," a children's television program that started in Australia, entertains children with song and dance. Show characters that fascinate children include Dorothy the Dinosaur, Captain Feathersword, Henry the Octopus and Wags the Dog. When planning a Wiggles birthday party, incorporate these characters into the party games. The children will have a "Hoop Dee Doo" time playing games at a Wiggles birthday party.
Easy Games
Plan a coloring contest for the children as their first easy activity to get the party started. Print several coloring sheets and give one to each child. Give the children a variety of markers and crayons for coloring the pictures. Award a small prize for the best, most creative and most detailed coloring pages. Other easy games you can print for the children include word searches and word scrambles including words such as "Dorothy," "Captain Feathersword" and "fruit salad."
Tossing Games
Have kids help feed Wags the Dog by taping a large poster of Wags to the bottom of a cardboard box. Cut the mouth out and lean the box up against a wall. Mark a line with masking tape 6 feet from the box. Have the children try to toss beanbags into his mouth. Award a small prize for each beanbag a child lands in Wags' mouth. For a variation, use a picture of Dorothy the Dinosaur and have the children try to toss beanbags into her mouth.
Hunt Games
Create a scavenger hunt with pictures of characters from the Wiggles' show. Hide the pictures all over the play area and have the children hunt for the pictures. The child who finds the most character pictures wins the game. You can also call out a certain character, with the first child who finds that Wiggles character winning a prize. Another option is to hide Wiggles party favors all over the party area. Children can collect their own Wiggles party favors to take home as mementoes of the party.
Classic Games
Add a twist to several classic games. For example, replace Duck, Duck, Goose with a game of "Sleep, Sleep, Wake Jeff Up," or play "Pin the Patch on Captain Feathersword" instead of Pin the Tail on the Donkey. You can also play a game of Hot Potato using a plush Wiggles toy. Have the children sit in a circle and hand a plush Wiggles toy to one child. Play the soundtrack from the Wiggles' show and have the children pass the toy around the circle. When the music stops, the player holding the toy is out of the game. The last player remaining in the game wins the toy.
References
Resources
Photo Credits
Gaye Gerard/Getty Images Entertainment/Getty Images